If you work in an IT or engineering field, this latest research about where tech jobs are growing the most might be of interest.
The list was compiled by tech job listing site Dice, based on information from the Bureau of Labor Statistics for computer systems design and related services.
Texas' tech employers seems to be investing in the future, with many developer openings on Dice in Austin, Dallas, and Huston. 8,1000 more positions in the Lone Star state were added this year to employ 143,300 tech workers (a 6% jump).
Florida, North Carolina, Oregon, and Washington round out the top 5, but you can see other areas friendly to tech professionals--outside of Silicon Valley--in the graph below and Dice's blog post (linked above) on the matter.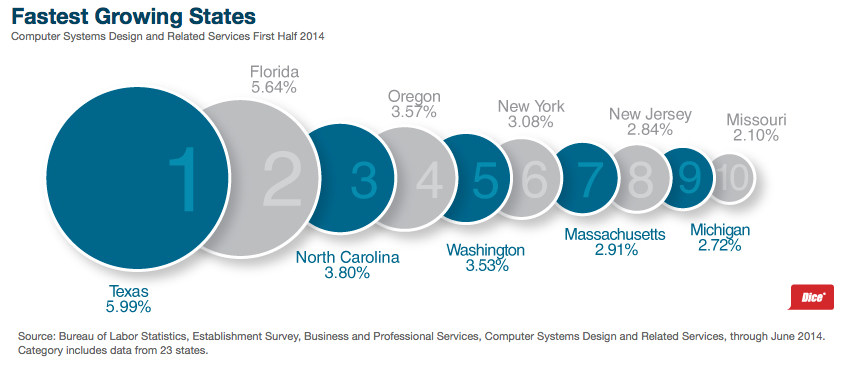 Even if you don't plan on getting a new job, it's worth keeping in mind where more demand may be just in case.
Read more of Melanie Pinola's Tech IT Out blog and follow the latest IT news at ITworld. Follow Melanie on Twitter at @melaniepinola. For the latest IT news, analysis and how-tos, follow ITworld on Twitter and Facebook.