This new feature in OneNote just might change my life. I often get links emailed to me and try to save those shared web pages somewhere for future reference. OneNote can now streamline this whole process by turning the URLs in an email into OneNote notes with a screenshot of the complete web pages.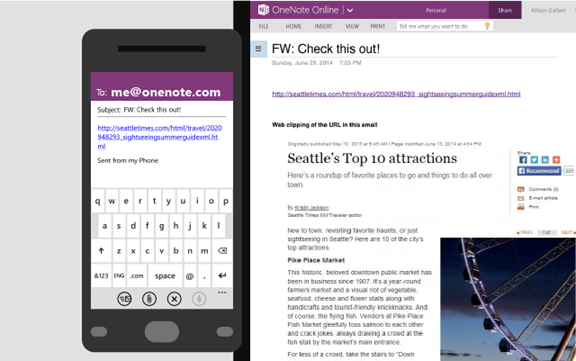 This means you can skip the clicking and web clipping and just forward your email to me@onenote.com to save the shared page in full. That screenshot of the page can be made searchable and you can copy the text/graphics from it. You could even combine it with an IFTTT recipe to send any emails labeled "onenote" to me@onenote.com (for example, set up a filter in Gmail to label emails from a certain account with "onenote" and then IFTTT will automatically send those emails to OneNote, which will convert the URLs to full web pages).
This would come in very handy when browsing the web on your phone. Share the page with me@onenote.com and the whole thing is clipped, rather than just the URL. (That's a big annoyance about visiting web pages on mobile and wanting to save them for later.)
Emails with multiple URLs sent to me@onenote.com will just save the email itself. And the clipped pages will be saved to your default OneNote notebook. 
It may be a small feature, but it's a killer reason to try OneNote if you haven't already.
 Read more of Melanie Pinola's Tech IT Out blog and follow the latest IT news at ITworld. Follow Melanie on Twitter at @melaniepinola. For the latest IT news, analysis and how-tos, follow ITworld on Twitter and Facebook.