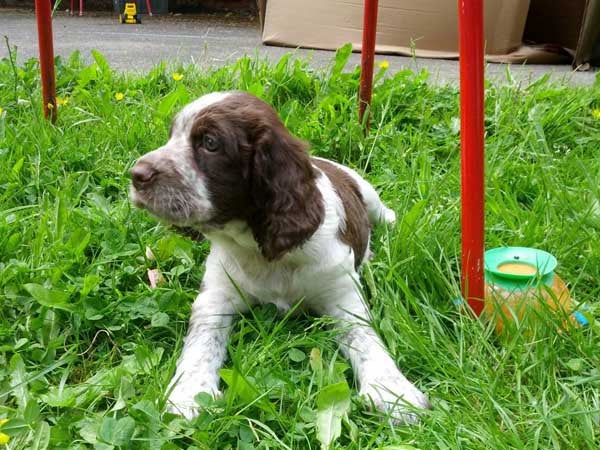 It's well known these days that software engineers are in high demand. That means that companies looking to hire developers will sometimes resort to unusual methods to find them. As I wrote last year, one such company was Rover.com, which offered a puppy as a bonus to anyone who referred a developer whom the company eventually hired. I recently followed up with Rover and learned that their unusual referral bonus program indeed helped them to find an engineer - and one puppy to find a new home.
To recap, Rover.com, a Seattle-based company that serves as a marketplace for dog sitting services (and which recently got a nice infusion of VC cash), wasn't offering an actual puppy as a referral bonus. Instead they were offering $1,000 to anyone who referred a developer to them who got hired; Rover simply encouraged people to use the bonus money to get a new puppy. As Scott Porad, Rover's Senior Vice President of Product Development, told me at the time, Rover needed developers and "wanted to do something that would stand out (from the typical cash referral bonus) and also reinforce the Rover brand, i.e. that we're about dogs."
Well, apparently, mission accomplished. I checked in with Porad this week to see how the campaign went. He told me that the puppy referral bonus generated several dozen referrals. One of those referrals came from Brendan Ribera, who also works in the Seattle startup scene and was connected to Porad via Twitter. Ribera's referral was hired by Rover and he received the $1,000 bonus, which Porad said was used to buy a puppy.
I reached out to Ribera to ask if he really used his bonus to get a dog. "Yup, that's what I did. We had been debating about when to do it, and the bonus made our decision easy," he told me. And what kind of dog did he get? "We got an English Springer Spaniel and named him Watson. It's been going really well - he's an energetic, fun puppy, and is really great with our kids."
There you go. Rover got their engineer and Ribera and family got their (very cute) dog. Everyone's happy!
I asked Porad if Rover would be running more referral bonus programs like that in the future. "We're thinking about it because we really need to hire more engineers," he said, "but we haven't decided for sure.  We've been thinking about some other things, though: tickets to the Super Bowl, a trip to Hawaii...we haven't decided on what yet.  Any ideas??"
What say you, readers? Any good ideas for what Rover could offer to generate more developer referrals? Let's hear your ideas.
Read more of Phil Johnson's #Tech blog and follow the latest IT news at ITworld. Follow Phil on Twitter at @itwphiljohnson. For the latest IT news, analysis and how-tos, follow ITworld on Twitter and Facebook.