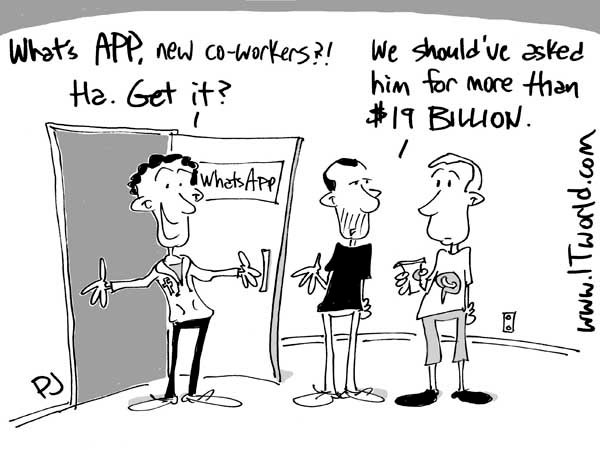 While there were some big tech stories this week, like, say, the maker of Candy Crush filing for an IPO, none were as big as Facebook shelling out a whopping $19 billion in cash and stock to buy WhatsApp. Hoo doggy, that seems like a lot of money for a messaging app, but I guess Mark Zuckerberg feels it will give his company enough of a foothold in the mobile market in developing countries to be worthwhile. We'll see.
Of course, all I can think of when I hear about WhatsApp are the old Budweiser Wazz Up ads. Also, I figure the WhatsApp founders must sick and tired of hearing people say, "What's app?". Of course, if the guy who just gave them $19 billion for their company says it, they'd better smile and laugh like they never heard it before.
Anyway, I hope you had a great week, even if Facebook didn't buy your startup for $19 billion. Maybe next week!
Read more of Phil Johnson's #Tech blog and follow the latest IT news at ITworld. Follow Phil on Twitter at @itwphiljohnson. For the latest IT news, analysis and how-tos, follow ITworld on Twitter and Facebook.