Back in May, the White House officially released an API for its (open sourced) We the People petitions platform. That platform allows people to create petitions asking the government to take action on something and, if they gather enough signatures, the White House will officially respond. To date, the platform has seen more than 10 million people sign over 300,000 petitions, 133 of which have garnered official responses.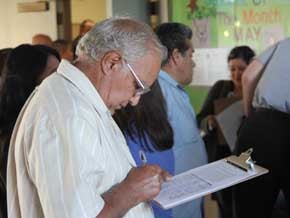 The API released in May only supported reads, meaning you could query petitions and signatures to display outside of the We the People site, but, in order to create or sign a petition, users still had to go to the official site. Now, a beta version of a Write API, which would allow developers to gather and submit signatures through external websites or apps, is ready for testing. Interested developers can now officially apply to be a beta tester.
There's no word yet on how long the beta period will last or when the Write API will be officially released to the public. Under the terms of participation of the beta test, testers cannot use the Write API in a production environment and they can only gather and submit signatures to sample petitions that will be created by the White House.
For inspiration, samples of some of the work based on the existing Read API created during recent We the People hackathons at the White House can be viewed here.
So, for those who are fans of open source and open government, here's your chance to directly contribute some of your brainpower and mad coding skillz!
Read more of Phil Johnson's #Tech blog and follow the latest IT news at ITworld. Follow Phil on Twitter at @itwphiljohnson. For the latest IT news, analysis and how-tos, follow ITworld on Twitter and Facebook.