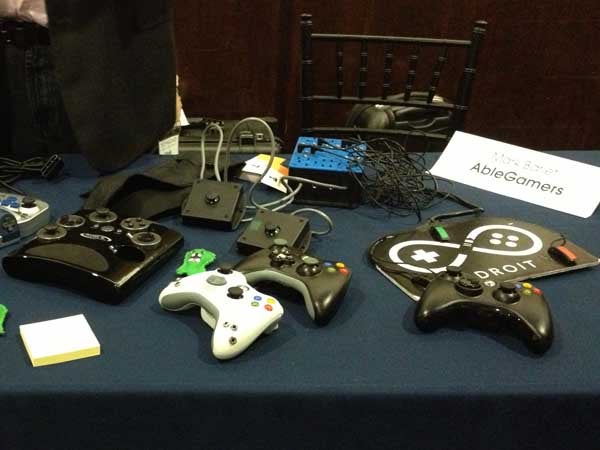 AbleGamers, an organization dedicated to helping the disabled take part in gaming as a way to build self-esteem and a sense of belonging, made a big announcement last week: they've opened the first AbleGamers Lab to offer free consultation to the disabled on assistive gaming technologies. As founder Mark Barlet wrote, the lab has been a decade in the planning and is a key part of their goal "to empower and enable any gamer with disabilities to play video games."
The lab is located at AbleGamers headquarters, just outside of Washington, DC, and is equipped with the latest high-end gaming equipment and assistive technologies, including (but not limited to) head-trackers, custom-input controllers and Stinkyboards (footboard controllers).
Consultations are free, and last from 1 to 2 hours. The lab is staffed by volunteer experts in assistive technology, including Barlet, Steve Spohn (AbleGamers Chief Operations Officer and Outreach Chair) and head technologist Craig Kaufman. Consultations can be arranged by contacting AbleGamers at lab@ablegamers.com.
As Spohn told me via email, while AbleGamers offers the consultations for free, they're not currently able to send visitors home with equipment. However, they do periodically offer grants, as funding allows, to provide the technology. "It's not unusual for people to ask us for what they need, and then apply for it when the next grant process is open," said Spohn.
The lab, AbleGamers hopes, is just the first of many to eventually be opened across the country and around the world. The key, of course, as it is with giving away assistive technology, is funding. As Spohn told me, "If some IT millionaire read this article and would like to help us with some backing, then we would be giving away all of the technology. And that's our ultimate goal."
If you are such a person - and, yes, I'm looking at you, soon-to-be-very-rich-Twitter-stock-holders - you can donate to this worthy cause at http://www.ablegamers.com/donate.
Read more of Phil Johnson's #Tech blog and follow the latest IT news at ITworld. Follow Phil on Twitter at @itwphiljohnson. For the latest IT news, analysis and how-tos, follow ITworld on Twitter and Facebook.