You might be getting messages from people on Facebook and not even know it. That's because the social network actually has more than one inbox. Besides the main one you're already getting notices about, there's an "Other" tab that could be useful to you--only you might not know it's there.
When you get a Facebook message from a friend, you'll usually see the red notification mark at the top of your Facebook menu indicating as such. However, the notifications only come from friends by default. There's another setting that filters other messages, including those from "people you may know" (but you might not be friends with on Facebook). These messages get shuttled to the "Other" tab.
To see those messages, click on "Messages" on the left menu, then the "Other" tab or link.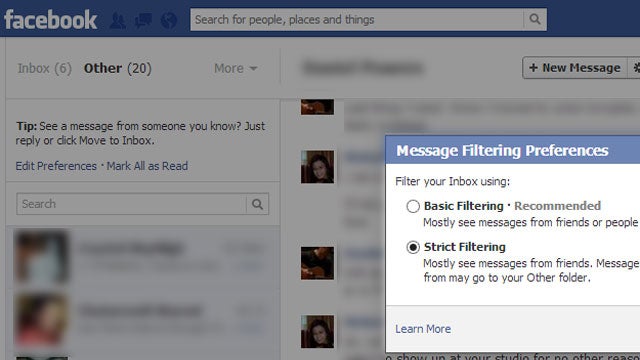 You might find some messages from people trying to contact you whom you would like to hear from (unlike the messages moved to the "Spam" folder in Facebook).
If you want, you can change the message filtering options to "Mostly see messages from friends or people you may know" rather than "Mostly see messages from friends" (Precise? Not exactly.)
This isn't a new feature. Lifehacker spotted it back in 2011, but both David Pogue and Joanna Stern recently discovered it (and tipped me off to this hidden inbox), so it's hardly common knowledge.
TL;DR: Go check your Other Facebook inbox.
Read more of Melanie Pinola's Tech IT Out blog and follow the latest IT news at ITworld. Follow Melanie on Twitter at @melaniepinola. For the latest IT news, analysis and how-tos, follow ITworld on Twitter and Facebook.