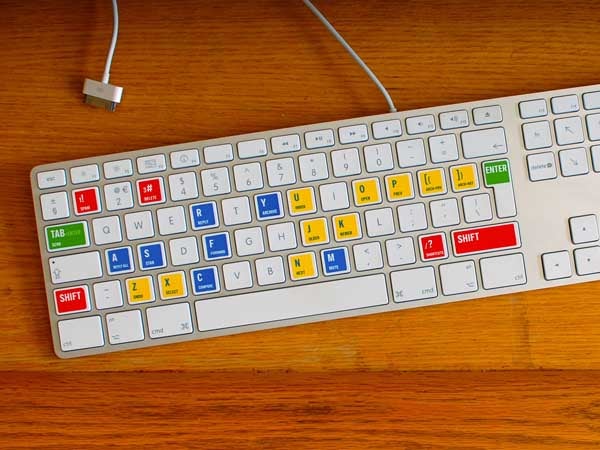 Last week Twitter's accessibility team announced some improvements to its set of keyboard shortcuts that can be used to navigate Twitter.com. As they pointed out, these kinds of controls are not only used by power users, but they are also required by people with disabilities or physical conditions that make using a mouse difficult or impossible. As Todd Kloots wrote:
What's most important is to remember that humans are all different, and because of our differences, we all have different needs. The more options we have as users, the better. Through that lens, the importance of the keyboard is elevated as it offers another option to the user.
[ 7 days using only keyboard shortcuts: No mouse, no trackpad, no problem? ]
Among the improvements they implemented are setting the DOM focus properly as users scroll through tweets using the j and k keys. By doing so, users can now also use keys like Tab to navigate elements within the selected tweet. Previously, a user might have been taken somewhere else on the page when hitting Tab to try and navigate within a tweet. 
The full set of Twitter's keyboard shortcuts can be seen by pressing ?. Here's the current list:
n - New Tweet

f - Favorite

r - Reply

t - Retweet

m - Direct message

b - Block User

u - Unblock User

Enter - Open Tweet details

l - Close all open Tweets

? - Shortcut help

j - Next Tweet

k - Previous Tweet

Space - Page down

/ - Search

. - Load new Tweets

g h - Home

g c - Connect

g a - Activity

g r - Mentions

g d - Discover

g p - Profile

g f - Favorites

g l - Lists

g m - Messages

g s - Settings

g u - Go to user...
Note that the shortcuts provide ways to not only scroll through your timeline and perform actions related to specific tweets (e.g., f for favorite, r for reply), but also to navigate to other pages, e.g., g then h for the home page, g then c for the connect page). These shortcuts are, of course, in addition to shortcuts implemented by your browser/operating system. 
Twitter seems to be putting an extra effort into accessibility these days, including a new Twitter account for their accessibility team, @a11yteam. 
Many other social media sites (and web sites in general) provide keyboard shortcuts to make mouse-free navigation possible. Here are some others.
Facebook
Here are the basic Facebook shortcuts:
j and k - Scroll between News Feed stories

l - Like or unlike a selected story

c - Comment when on a story in News Feed

Enter - Focus on the text box when making a post

/ - Search

q - Search for a friend to chat with

? - Shortcut help
In order to navigate to different pages in Facebook you have to include a browser/OS-specific key sequence along with each shortcut.
Internet Explorer for PC: Alt + #, then Enter

Firefox for PC: Shift + Alt + #

Safari for Mac: Ctrl + Opt + #

Firefox for Mac: Ctrl + Opt + #

Chrome: Ctrl + Opt + #
Facebook shortcuts requiring these additional keys are:
m - New Message

0 - Help

1 - Home

2 - Timeline

3 - Friends

4 - Inbox

5 – Notifications

6 – Account Settings

7 - Privacy

8 - About

9 - Terms
You can also pull up the list of Facebook shortcuts by typing ?, but it doesn't display the full set of browser/OS-specific key combinations.
Google+
Google+ shortcuts use the j and k key conventions for navigating through posts. Here's their list of shortcuts which, like on Twitter, can be accessed at any time by typing ?.
j - Next post

k - Previous post

o -Expand/collapse current post

n - Next comment on current post

p - Previous comment on current post

r - Comment on current post

l - Load new posts

v -View attachment

/ - Search

? - Shortcut help

@ - Send feedback

Left arrow - List of pages (Enter opens selected page)

Right arrow - Page content
Tumblr
Tumblr provides keyboard shortcuts following similar conventions.
j - Move forward one post forward

k - Move backward one post

l - Like the current post

n - See a post's notes

? - Shortcut help

Spacebar - View photosets in a lightbox or start playing a video post

Option + r - Fast reblog a post

Option + e - Add the post to your Queue

Option + c - Quickly compose a new post

Option + Tab - Quickly switch between your Dashboard and your blogs
I don't make a whole lot of use of keyboard shortcuts (aside good old cut-and-paste), but I'm inspired to give these a try. Do you make heavy use of keyboard shortcuts, either by choice or due to a physical issue? Any social media sites that you feel do a better job than others implementing keyboard-based navigation? Please share your experiences in the comments.
Read more of Phil Johnson's #Tech blog and follow the latest IT news at ITworld. Follow Phil on Twitter at @itwphiljohnson. For the latest IT news, analysis and how-tos, follow ITworld on Twitter and Facebook.