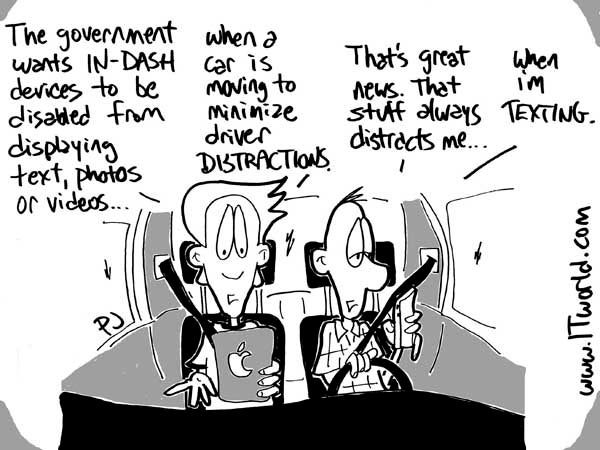 Happy Friday, everyone! If you're at all like me, you spent at least part of last night watching the first round of the NFL draft and wondering why nobody told you that the name Barkevious was an option when you were naming your own kids?  The draft also got to me thinking that it's too bad someone doesn't hold a draft for programmers; if they did, companies wouldn't have to resort to offering puppies as a reward for referring developers.
On with the review of the top tech stories from this week.
Apple reported a drop in net profits in the most recent quarter, their first decline in profits in ten years. Apple is in belt-tightening mode; today Tim Cook fired his personal grape feeders.
Western Digital has released the world's slimmest laptop hard drive, which is just 5mm thick. They got it that slim through precise engineering, pioneering techniques and cutting out bread.
In its first ten days of release, Facebook Home has been downloaded 500,000 times. To increase downloads, they've hired HGTV to give it a makeover.
Pizza Hut has created an app for the Xbox 360 that allows you to order pizza using body motions. Be aware, though, if you want more than one topping, it'll require advanced yoga techniques.
The U.S. Department of Transportation is recommending that in-dash devices be disabled from displaying text, images or videos when a car is moving to avoid distracting the driver. They're also recommending that, when a car is moving, kids and mothers-in-law be quiet.
Twitter is reportedly working on implementing two-stop authentication. The hardest part will be writing the instructions in under 140 characters.
This week iPhone 4 owners started receiving $15 checks to compensate for antenna issues. It's not much money, but the checks are made from very stylish anodized aluminum.
It was rumored this week that Google Glass will let you take a picture by winking. Sounds like Google Glass won't be popular among people with facial tics.
On Tuesday, hackers took over the AP's Twitter account and tweeted about explosions at the White House. Some people fell for it; when he read the tweet Joe Biden ordered underwear with the presidential seal.
A new study finds that a single Facebook like is worth $174 to a company's brand. The finding was based on loyalty, spending and a wild guess.
OK, on to the weekend. I'll be spending it spreading three yards of mulch around my yard; hopefully your weekend will be more fun than mine, which shouldn't be too difficult.
Read more of Phil Johnson's #Tech blog and follow the latest IT news at ITworld. Follow Phil on Twitter at @itwphiljohnson. For the latest IT news, analysis and how-tos, follow ITworld on Twitter and Facebook.