If you've been away from the Internet over the past few days (say, perhaps, you were shoveling the snow from the Blizzard of 2013), you may have missed the latest video trend - people doing the Harlem Shake.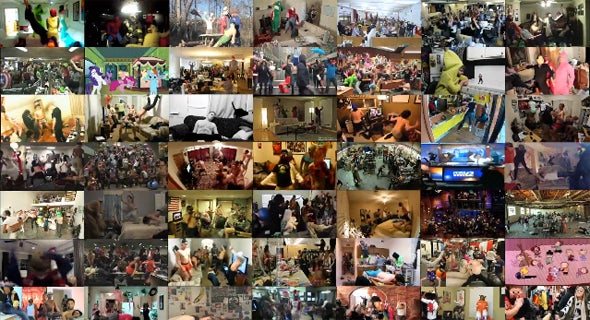 In case you're wondering what the heck the Harlem Shake is, check out this primer from Uproxx - it's basically a video where one person in a room is dancing by themselves, while the others ignore him. Then when the beat drops (about 15 seconds in), you get a quick cut and everyone starts dancing.
Over the past few weeks we've seen TONS of different Harlem Shake videos, and this being the Internet, the trend is spreading and getting very specific. For example, we've seen the "Office Edition", the My Little Pony version and the Peanuts version.
But my personal favorite at the moment is from Ryan Sims, who did the world a favor by posting 49 Harlem Shake videos into one handy video:
Just like "Call Me Maybe" parody videos and "Gangnam Style", this trend is only beginning. Get ready for a few more weeks of people trying to look cool (or goofy) while doing this "dance".
And, why the heck not? Here's the My Little Pony version:
Keith Shaw rounds up the best in geek video in his ITworld.tv blog. Follow Keith on Twitter at @shawkeith. For the latest IT news, analysis and how-tos, follow ITworld on Twitter, Facebook, and Google+.
Watch some more cool videos: Mash-up gold: Marty McFly meets The Doctor Squee alert: Elder Scrolls Online announces beta Take a tour of the International Space Station Is there a Nerd Culture War going on? Science Thursday: The Momentum Misconception