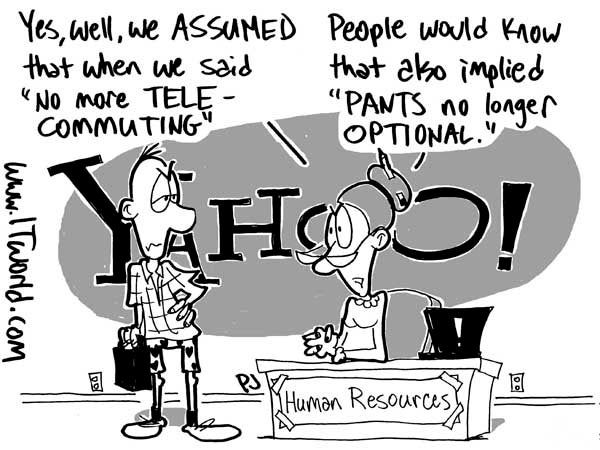 I don't know about you but, for me, the top tech story of the week was Marissa Mayer executive-decisioning Yahoo! back into the dark ages (or, at least, the 1990s). Is ending telecommuting just one part of a brilliant, master plan that she has to revive the company? Who knows? In the meantime, Yahoos who currently work at home had better refresh their memories on how to comb their hair and brush their teeth.
Of course, there were a few other tech stories this past week. Let's have at them.
Yahoo announced on Monday that, starting in June, employees will no longer be able to work from home. That gives current telecommuters a little over three months to either find a new telecommuting job or a pair of pants.
On Thursday Pope Benedict XVI sent his last tweet before stepping down as pope. And earlier today he was officially ousted on Foursquare as the Mayor of the Vatican.
On Friday SpaceX launched a capsule full of supplies for the International Space Station. It's due to arrive at the ISS on Saturday after a brief layover in Pittsburgh.
Starting this year, the Professional Golfers Association will start using rugged handheld devices for tournament scoring. Here's how rugged the devices are: they can withstand rain, heat and the boredom of watching golf.
This week Oracle CEO Larry Ellison purchased a Hawaiian airline. He plans to buy a second Hawaiian airline soon, for redundancy.