Synergy Research released a ranking of cloud services recently that surprised many. In the infrastructure-as-a-service category, Amazon Web Services was far and away the leader – no surprise there. But number two, IBM, and three in particular, British Telecom, were unexpected.
A few years back when I first started writing about cloud services there was buzz about the potential for telcos to become big suppliers of cloud services. Operators already have data centers—often globally--plus great connectivity options, and relationships with enterprises. Also, their traditional services have become commodities so they're looking for new revenue streams.
Periodically this subject of cloud services from telcos pops up but most often doesn't end up gaining much momentum. For instance, AT&T has a cloud service built on OpenStack that I've heard very little about since launch, in January last year.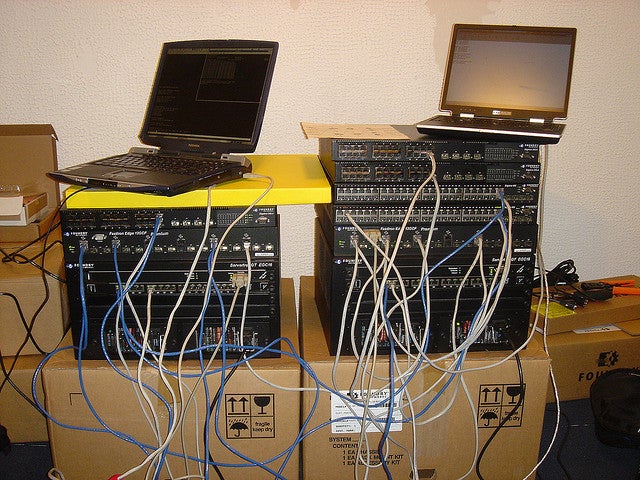 It's a similar story with Terremark, which is celebrating a two-year anniversary since being acquired by Verizon.
The under-the-radar strategy is about to change, at least for Terremark, said Chris Drumgoole, who heads global operations for Terremark.
"Depending on who is doing the counting, we're the second or third largest in the world," behind AWS and possibly Rackspace, he said. (It really does depend on who's counting. BT and IBM, in the Synergy report, may have included hosting or other services. It would be surprising not to see Rackspace ahead of IBM.)
"Yet most people don't know about us," he said.
That's partly by choice. "We have consciously gone incognito a bit," he said. That's because the company has been working on big decisions around "what the next version of the cloud will be like, so it's the silence before the storm," he said.
He didn't want to say much more about what's coming but he may have hinted at it. "We're at the very beginning stages of this but we're bringing the Verizon networks of the world, like wireless, FiOS and the business network, closer to the cloud," he said.
In practice, that means that if a business, for example, has franchises all over the country and uses Verizon for broadband, Terremark's cloud can look like another node on that company's private network. "For all intents and purposes, it's private. If I didn't tell you it was a cloud, it would look like any other data center on a private network. That's huge for businesses because it takes the risk out of moving to the cloud," he said.
Other public cloud providers have ways that customers can securely connect to their servers. For instance, Amazon offers its virtual private cloud offerings. Drumgoole said there are tradeoffs to using that service, although he didn't really specify beyond saying that it's complex and not as secure.
But AWS and other service providers, like an HP for example, aren't able to pass along the same kind of pricing and service for the network services as a company like Terremark that is affiliated with an operator.
Leveraging Verizon's telecom network is one way that Terremark can differentiate its services from the pack and may put it in a unique position to offer services that some others can't. For instance, Terremark may be able to offer end-to-end SLAs that guarantee low latency. Latency is very important for many customers, enough so that many choose a cloud provider based on the location of its data centers.
Even though these kinds of integrated services aren't quite yet on offer from Terremark, it has managed to build itself a reputation for working with enterprise customers. I've recently been talking to platform-as-a-service providers and many of them offer customers the choice of running on AWS or Terremark. I suspect that non-startups of the world are interested in going with Terremark rather than with AWS, which has a relatively poor reputation for serving enterprises.
Drumgoole said Terremark is also better off than the traditional enterprise vendors, like HP and IBM, because while he's under Verizon's umbrella, he doesn't have the kind of baggage those others have. "For every cloud instance HP sells, it's a server they don't," he said.
It may still be some time before we see the telcos taking a significant bite out of this market. But from my perspective, they may have a better chance than the HPs and Dells of the world since the telcos don't have the kind of business conflicts that are likely to hold back those traditional vendors.
Read more of Nancy Gohring's "To the Cloud" blog and follow the latest IT news at ITworld. Follow Nancy on Twitter at @ngohring. For the latest IT news, analysis and how-tos, follow ITworld on Twitter and Facebook.