Check out this cool video from the NASAexplorer YouTube channel, showing how scientists with the Lunar Reconnaissance Orbiter (LRO) beamed an image of the Mona Lisa to the spacecraft from Earth.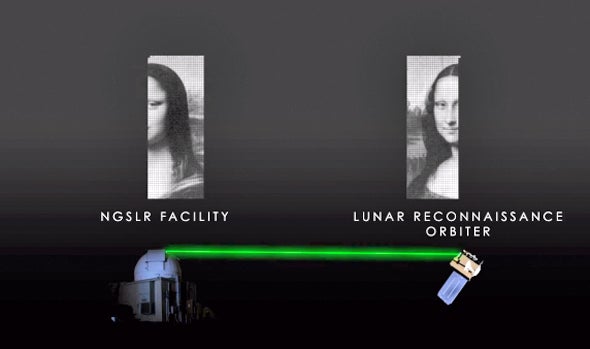 NASA says this was done as a demonstration of laser communication with a satellite at the moon, which could be used for future moon missions as a way to communicate rather than with radio waves. The image of the famous DaVinci painting traveled almost 240,000 miles in digital form, NASA says.
While it's likely they chose the Mona Lisa image because of its historical significance, I can't wonder if NASA scientists were poking a bit of fun at the Mona Lisa Moon alien conspiracy theorists out there.
Keith Shaw rounds up the best in geek video in his ITworld.tv blog. Follow Keith on Twitter at @shawkeith. For the latest IT news, analysis and how-tos, follow ITworld on Twitter, Facebook, and Google+.
Watch some more cool videos: Watch this trailer for Lego's 'The Yoda Chronicles' Web series BBC gives Doctor Who fans an Amy/Rory postscript Supercut: Lego Lord of the Rings game cutscenes in one video The Year in Review, courtesy of Twitter Juggling Disney robot hopefully won't attack guests