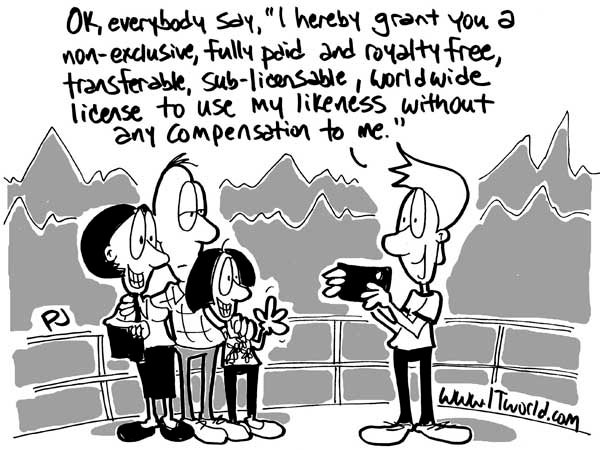 Bad news for you people hoping to avoid Christmas shopping: it appears that the Mayans were wrong, the world didn't end, and you had better get your butt to the mall!
What better way to celebrate the world not ending than with some topical tech humor? Let's have at it.
On Tuesday Google posted pictures of the 2,000 year-old Dead Sea Scrolls online. It's the oldest thing to go online since Larry King joined Twitter.
Former Microsoft executive Steven Sinofsky will be teaching at the Harvard Business School this spring. He'll be teaching a course titled, "Golden Parachuting 101."
After a strong backlash from users about its new terms of service, Instagram has revised them. They removed the offending clause and and give the terms an old-timey sepia tint.
On Monday afternoon NASA intentionally crashed two orbiters into the moon. The crash sight was named after Sally Ride, while the whole mission was named after Lindsay Lohan.
Kodak has sold their portfolio of digital imaging patents. A consortium has agreed to pay $525 million and pick them up from a small kiosk in the mall parking lot.
Neilsen and Twitter announced this week that they will partner to begin measuring the total audience for social TV activity. Just to save us all the embarrassment, they've agreed to not measure the amount of social activity around Honey Boo Boo.
A man who hacked into Scarlett Johansson's email account and got nude pictures of her was sentenced to 10 years in prison on Monday. On the plus side, he's got enough nude pictures of  Scarlett Johansson to keep himself occupied.
This week the Center for Digital Democracy accused the makers of a SpongeBob app of collecting too much personal data from children. The said the app violated kids' right to privacy and their parents' right to not be annoyed.
Germany has ordered Facebook to allow users to use pseudonyms, saying requiring real names was a violation of privacy. Germany said if Facebook doesn't comply immediately they would strongly consider invading France. 
Google announced on Monday that its new maps app for iOS was downloaded more than 10 million times in its first two days of availability. It's already so popular that gas stations have reported a noticeable drop in the number of iPhone users asking for directions.
Happy holidays and new year! See y'inz in 2013.