Like anyone with more than a billion friends, Facebook has its share of problems. But there's a new one brewing that could mean serious trouble for the world's biggest social network, and it has nothing to do with privacy.
Facebook has started to charge people – more specifically, businesses, celebrities, and organizations – for the privilege of promoting themselves to their fans and friends. And those businesses and celebs don't like it one bit.
In other words, a service that Facebook offered for free -- so that it could entice people to create Pages and set up virtual storefronts on the network -- now costs actual money. There was no official announcement, no suggestion that a change was in order, nothing visible to the naked eye. It just started to happen.
The fact that this started to happen shortly after a) Facebook's IPO tanked, causing it to scramble for new revenue models, and b) it unveiled "Promoted Posts," which allows users to distribute their posts more widely for a fee, is mere coincidence, Facebook says.
Facebook is claiming that it has done nothing different to its EdgeRank algorithms since it introduced Promoted Posts; it says it is merely filtering the content sent to people's news feeds in order to make it less spammy and more 'relevant.'
But nobody is buying that line. And when the people who aren't buying that line are highly visible social media personalities like Mark Cuban and George Takei, whose voices carry quite a distance, that's a real problem for Facebook.
Over at Read/Write, newly minted editor Dan Lyon writes about how ticked off Mark Cuban is by Facebook's promotional policies. The billionaire owner of the Dallas Mavericks is not exactly shy about sharing his opinions about everything. He told Lyons:
"We are moving far more aggressively into Twitter and reducing any and all emphasis on Facebook," Cuban says, via email. "We won't abandon Facebook, we will still use it, but our priority is to add followers that our brands can reach on non-Facebook platforms first."
Cuban says he's going to spend his time and money promoting his 70-odd companies on Tumblr and even – yes – Justin Timberlake's new MySpace. (The demo of which, I am embarrassed to admit, looks pretty wicked awesome.)
A few months back, George Takei – better known to most of us as Star Trek's Lieutenant Sulu – voiced similar concerns. Takei has made a second career out of posting funny photos to Facebook. As a result, he's garnered nearly 3 million fans to his Facebook page. He, too, noticed a sharp drop-off in how widely his posts were circulated following the appearance of Promoted Posts.
But it's not just famous folks who are pissed. I've talked to small business owners who were unpleasantly surprised to discover that the updates they thought were going out to all their fans were instead only reaching no more than a small percentage of them. No explanation given. One small biz owner I spoke with asked Facebook repeatedly why this was happening; she says she never got a real answer, and after a while her Facebook rep just stopped responding to her emails.
I recently tried this out myself. I created a brief status update to my fan page and spent $5 to promote it. According to Facebook, the update was supposed to reach between 3000 and 5000 Facebook users. Instead, it reached just 880 people.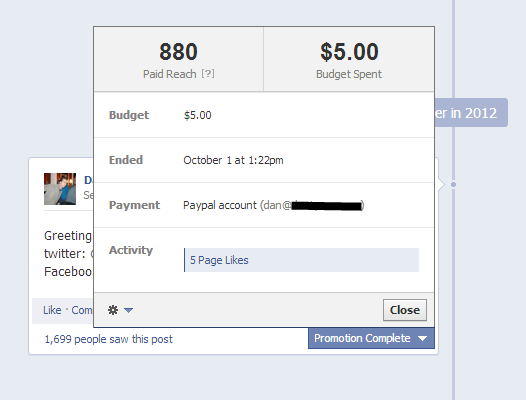 In fact, more people saw that post "organically" (ie, not clicking through the sponsored link) than saw the promotion. The result? I gained a whopping five new Page Likes at a rate of $1 per. At that rate, if George Takei wanted to go from zero fans to his current number, it would cost him in the neighborhood of $2.9 million. 
Granted, this was hardly a scientific test. Your fannage may vary. But still, it's no wonder people would rather buy thousands of fake fans for pennies apiece than pay Facebook 25 times as much for a handful of real ones.
I get it. This is Facebook's network; if they want to start charging for stuff they used to give away free, they are well within their rights. If they want to tweak their algorithms to incentivize Promoted Posts, they can do that too. But they are alienating their earliest and most dedicated supporters, who are both very visible and very vocal. That's not a wise move for a company where customer loyalty isn't especially high and the competition is only a click away.
Got a question about social media? TY4NS blogger Dan Tynan may have the answer (and if not, he'll make something up). Visit his snarky, occasionally NSFW blog eSarcasm or follow him on Twitter: @tynanwrites. For the latest IT news, analysis and how-to's, follow ITworld on Twitter and Facebook.
Now read this:
Facebook botnets have gone wild
When blonde zombies attack, Facebook responds (sort of)