The folks at Boston Dynamics (with funding from DARPA) have uploaded a new video showcasing the speed of its Cheetah Robot, which got up to 28.3 mph on a treadmill. This is "about 0.5 mph faster than Usain Bolt's fastest 20-meter split."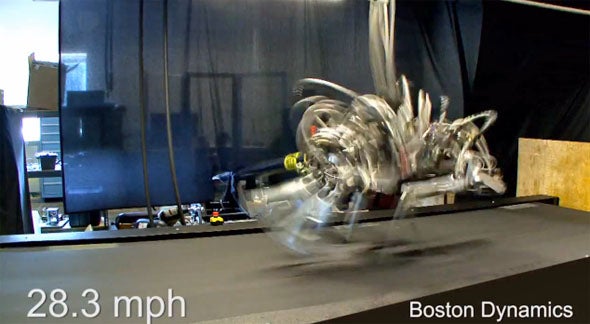 Let's not get the gold medal ready for the robots yet, however. I'd imagine that Bolt's acceleration to get to his top speed is faster than the robot. Still, who wouldn't want to see this race?
Here's the interesting note from Boston Dynamics: "Testing on an untethered outdoor version starts early next year." Watch out folks, the robots will soon be able to chase us down as we try to escape them. Have your Terminator and shotgun ready for that day.
Keith Shaw rounds up the best in geek video in his ITworld.tv blog. Follow Keith on Twitter at @shawkeith. For the latest IT news, analysis and how-tos, follow ITworld on Twitter, Facebook, and Google+.
Watch some more cool videos: James Bond meets My Little Pony: Mashup gold This 13-foot Japanese robot is packing heat The Legend of Zelda as a Western Friday Funnies: Batman rants against the Dark Knight haters/a> Did this 1993 film predict Google Glasses and iPads?