Today is the 50th anniversary of the speech given by President John F. Kennedy at Rice University, in which he challenged the country to put a man on the moon.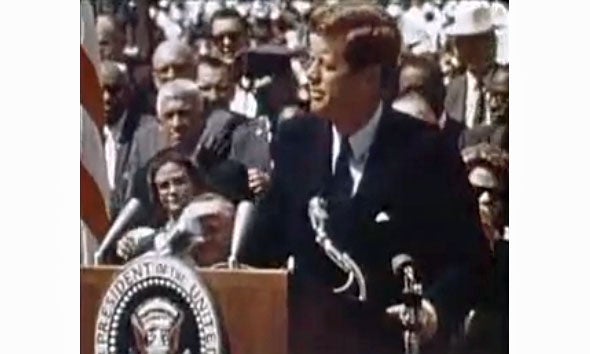 If you haven't watched the speech before, you can now watch it via YouTube. Yay technology!
My favorite line from the speech is the one that most of us have probably heard: "We choose to go to the moon. We choose to go to the moon in this decade and do the other things, not because they are easy, but because they are hard, because that goal will serve to organize and measure the best of our energies and skills, because that challenge is one that we are willing to accept, one we are unwilling to postpone, and one which we intend to win, and the others, too."
Wouldn't it be nice for the country to get back to that kind of spirit?
Oh, wait, there's a new iPhone announcement today.
The full text transcript of the speech is located here, courtesy of NASA.
Keith Shaw rounds up the best in geek video in his ITworld.tv blog. Follow Keith on Twitter at @shawkeith. For the latest IT news, analysis and how-tos, follow ITworld on Twitter, Facebook, and Google+.
Watch some more cool videos: James Bond meets My Little Pony: Mashup gold This 13-foot Japanese robot is packing heat The Legend of Zelda as a Western Friday Funnies: Batman rants against the Dark Knight haters/a> Did this 1993 film predict Google Glasses and iPads?