I've always loved those perpetual-motion machines or Rube Goldberg-like contraptions and sculptures that take a bunch of balls and have them travel down ramps, slides and other tricks.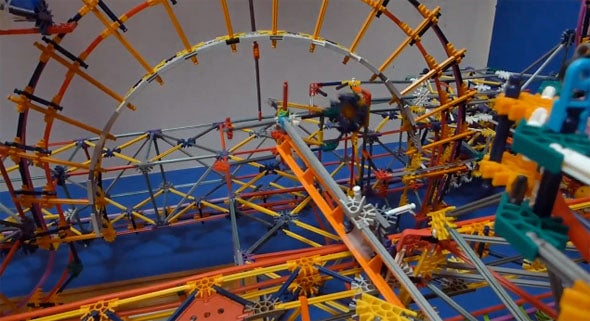 So you can imagine how awesome this thing is - YouTuber austron (real name Austin Granger) has posted a video of his "Clockwork" contraption - his fifth major machine made from the K'Nex construction set (K'Nex is like Tinkertoys grown up).
Granger says Clockwork took eight months to build, has more than 40,000 pieces, 450 feet of track, 21 different paths, eight motors, five lifts and a computer-controlled crane. We're not sure yet whether Granger can escape his room.
Keith Shaw rounds up the best in geek video in his ITworld.tv blog. Follow Keith on Twitter at @shawkeith. For the latest IT news, analysis and how-tos, follow ITworld on Twitter, Facebook, and Google+.
Watch some more cool videos: James Bond meets My Little Pony: Mashup gold This 13-foot Japanese robot is packing heat The Legend of Zelda as a Western Friday Funnies: Batman rants against the Dark Knight haters/a> Did this 1993 film predict Google Glasses and iPads?