I apologize for yet another Avengers post, but this one is funny if you remember the golden days of the '90s and the boy-band-mania that struck most of the world. This parody video has The Avengers (did you know the movie is coming out Friday?) as a '90s-style boy band, singing about all of their "super friends".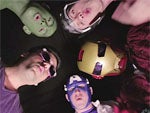 I promise, that's the last Avengers video for the day.
Maybe.
Keith Shaw rounds up the best in geek video in his ITworld.tv blog. Follow Keith on Twitter at @shawkeith. For the latest IT news, analysis and how-tos, follow ITworld on Twitter, Facebook, and Google+.
Now watch: What Google Goggles will REALLY look like April Fools' videos from around the InterWeb If Doctor Who was an 8-bit role-playing game