Google's going to change the look of its home page once again. This time, it's dropping the drab efficiency of the "black bar," filled with text links to other Google services and a few interactive tools for its Google+ social network. In its place, anyone signed into Google will soon see a light gray bar, reminiscent of mobile apps and, in some ways, the Apple aesthetic. The Google+ notifications and quick-posting tools are still there, but all the simple text links have been replaced with a Google button--click it, or hover over it for a second, and down drops a menu that can get you to all the other Google services.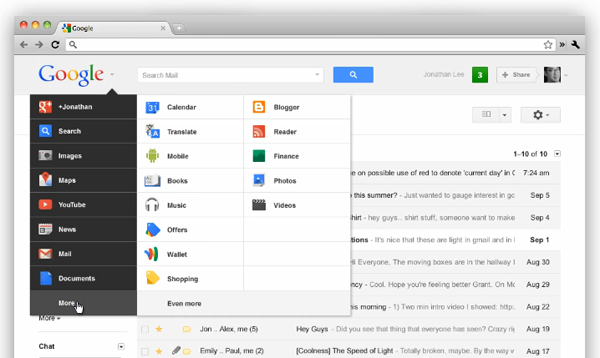 It's not ugly, it's not spammy, and, honestly, most of the people I know might give it a cursory "Huh," before moving on to search out, say, the best Peruvian chicken joints in Washington D.C. But that's exactly the thing that frustrates me--Google has found another menu to tuck things behind. The lessons learned by Google's Android team haven't Segway-scootered down the hallway.
The next version of Android, the 4.0 release dubbed "Ice Cream Sandwich," has many improvements to recommend it. The most bold change, the one that will impact hundreds of apps and screenshots and panicked "Where the heck is the 'Refresh' button?" moments, is the removal of the Menu button from the tray of buttons at the bottom of every screen. There is now a Home button that sends you back to your home screen, like the bottom button on an iPhone or iPad, a button that brings up a stack of apps you've recently used to switch between, and a Back button that does a variety of things you can't rely on, but that's another riff for another time.
The Menu button, up until now, has served as the junk drawer of Android apps, where everything that isn't a frequently used function, some semi-regular toggles, and usually the settings for a program get stashed. Like the junk drawer in your office or kitchen, it's often a surprise to see what's stored in there. With some apps, it really is a secondary mish-mash: manual Refresh options, sorting toggles, and Settings/Options buttons. But on Google's own Gmail app, you have to hit Menu to find the Compose option. Creating a new playlist on music service Spotify's Android app requires a Menu tap.
I'm the author of The Complete Android Guide. Those people who know that, know me, and own an Android phone ask for help. At least half the answers I have involve hitting the Menu button, hitting another button, sometimes hitting yet another button after "More," then tapping another thing. If I had to guess, my book will shrink by at least 15 percent when the Menu button makes itself scarce. After all, I could eliminate entirely the section with all the necessary menu steps needed for common tweaks and fixes listed out.
iPhone apps have settings, too, sometimes tucked into a small button with a gear icon somewhere on a particular screen, or sometimes included among the other categories in the main Settings app. But rarely do they require the kind of intuition that comes naturally to tinkerers--"Oh, there must be a setting to change this, found in the More section of the pop-up menu that appears when you hit the button with the three descendingly smaller lines." Once you learn where the Settings app is (rather than hitting, yes, the Menu button from the home screen), and you get what a gear-like icon does, you've got what you need to change things. Android, by forcing developers to either make their own menus more obvious and less assumed, is looking for a similar, smoother learning curve.
So, what of Google's upcoming redesign, featuring what I'd consider the web equivalent Menu button? For those who use Google services as one-off offerings, navigating to each whenever it's needed and hardly noticing the "black bar" links that were there before, not much will change. But Google is a firm that wants more people to move more and more of their daily computer lives onto the web. The more time people spend in Google products like Gmail, Docs, and Google+, the more familiar they get with the web as a workspace, and, most likely, the more time they will spend seeing ads delivered by Google.
A big part of design is making choices about the most important information you can tuck into a limited amount of space. By putting all of their offerings under a button that just reads "Google," I think the search giant is sacrificing navigation and direction for simple minimalism. By contrast, look at their search app for iPads, specifically the home page: search, voice search, and a dedicated button for launching other Google web tools, on a stylish, clean page. It just works, and anyone can work it.