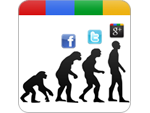 Google+ hype may have slowed down, but user growth hasn't. 10 million users were confirmed by Google on July 14, and since eliminating the "invite only" restriction last week, traffic estimates indicate about 50 million users use the service. Or do they?
If true (Google hasn't confirmed the user numbers), Google+ will be the fastest social network to reach 50 million users by a huge margin: 88 days versus 1,046 days for MySpace and 1,095 days for Twitter. Some feel the recent changes in Facebook have driven more users to try Google+.
But capturing numbers doesn't mean you've captured the hearts and minds of the users. Facebook's privacy missteps sour many users on all social networks, and Google has their own privacy issues to address. Worse? Some traffic surveys showed Google+ visits dropping before the open invite policy was announced and boosted traffic.
No surprise
I'm sure Google + will have even more users following the FB debacle. Might I suggest a Google Plus ad campaign: "Google + we won't piss you off (too much)."

Adrian Smith on mashable.com
I'm using it more and more... I love it.

Jon Barron on betanews.com
I think we're all giving Google+ the short shrift for all the WRONG reasons. After all, it's only been "out in the wild" for only a few months including the invitation-only closed beta test.

sacto8105 on sfgate.com
No big deal
The only way Google+ will have a chance is if Zuckerberg renames Facebook to Qwikster and turns it in to two different websites.

bubblebuster on sfgate.com
I really disliked the idea of Google "invite only" of Google+ in recent months. Because of the fact, I ended up using Twitter even more and now feel Twitter is more than enough 'social networking' my business and I will ever need.

Josef Higgins on mashable.com
The numbers in this case don't mean much. I have already Gmail account so I signed up for Google+ too. It doesn't mean I use it.

Tamer Aydogdu on betanews.com
Nobody cares how many users it has. Nobody is actually _using_ it. Their usage has fallen dramatically, and Facebook's crap isn't going to save it.

HonoraryOrange on mashable.com
Facebook still rulez
50M users and no activity. So why would I replace Facebook with +? Or even worse, what would be the point using both? Facebook is simply more socialised, all friends are already there, all pictures are already there, so why move to G+ if it doesn't really offer any real improvement?

flajer on mashable.com
The massive strength Facebook has for retention is its huge influence over relationships, specifically, the social type. G+ is approaching from a different angle, which I applaud, but it certainly makes things tougher for them from a user retention point of view.

Anthony Trollope on mashable.com
If you had to choose one, and only one, social networking site, which would you use?