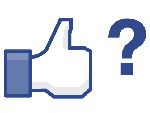 Facebook's f8 developer conference on September 22 will host the launch of a new feature to let users listen to music from within Facebook (Mashable). Rather than hosting a music streaming service directly, Facebook will stream content from third party partners. Tops of that list are Spotify, MOG, and Rdio.
Of course, modern browsers make it easy to stream music in one window will tending Farmville crops in another. But Facebook has hung out the welcome sign to bands jumping off the sinking MySpace ship. Even better, if your favorite music streaming provider is easy to access within Facebook, that means more Facebook time.
The majority of the noise, however, is against this new integration.
Bad idea
how is it so much better to stream an RDIO playlist through FB vs. through RDIO?

Kayvaan Ghassemieh on mashable.com
Why doesn't Facebook invest in App development for mobile and/or desktop operating systems? There's a lot of potential in the "app" marketplaces (See, Angry Birds). Meanwhile music services are just the same old crap.

RH00D on techspot.com
I don't need any "middleman" to come between me an my Spotify. FaceBook can take this deal and shove it!

Josef Higgins on mashable.com
First it was iMeem, then iLike, and now Spotify. Embedding a music service on Facebook is not going to bring me back to the website.

Wells Baum on gigaom.com
snt this what myspace used to do??? I remember I could listen to music and even put music in my profile…I dont see the benefit…but we'll see.

Javi_Verified on mashable.com
This makes zero sense to me. Who will pay the licensing fee for the music? If it's Spotify, wouldn't they want people being exposed to ads on their website rather than on Facebook?

catullusr1 on gigaom.com
Another useless vertical integration. Ah well, it'll be better for the consumer...more competition, right?

M1r on techspot.com
Great news for me
Very excited about this. Spotify via Facebook = more time I spend on Facebook.

Dave Hennessy on mashable.com
As a Spotify fan, I'm excited!

Pete Cashmore on mashable.com
Facebook advice
Facebook should fix the music player for artists first.

Juan on gigaom.com
Its all about the subscriptions. No ad revenue for Spotify, MOG, Kazaa, Rdio – just a warm introduction to tens of millions of potential subscribers. A small cut to Facebook that is in line or below their average SAC is a no brainer.

JW on gigaom.com
Will streaming music tempt you to spend more time on Facebook?