Today's tip is excerpted from 'Manage heterogenous systems with your iPad' by Brian Proffitt
There aren't many dedicated monitoring apps available for the iPad. But they aren't non-existent, either. iStat is one such app that, though configured for the iPhone, provides a neat little snapshot of any remote Linux, Unix, or OS X device that iStat can see.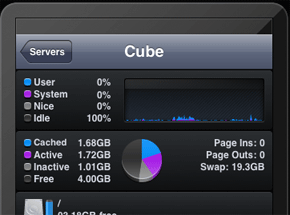 iStat actually has two modes. First off, you can see information on the iOS device you're using, which is interesting though ultimately a bit of a thought exercise, unless you have a jailbroken device and can actually make some configuration changes on the iPad or iPhone. It's the second mode that will be more of interest to system administrators: remote server performance can be monitored as well.
There's a bit of a catch here: for one, you need to have an iStat Server running on the machine in question. Linux and Unix server users, be warned: there's no packaging available for this, so you're going to have to compile and install the source code. OS X users will have a standard installation package. Once installed and configured, iStat Server will let the iStat app monitor CPU, memory, disk space, and uptime from the iPad. Ping and traceroute tools are also included for added functionality. The interface is nice and slick, though it's not optimized for the iPad yet.
At $0.99, iStat is certainly a bargain for what you get. Installing the iStat Server from source makes it a little harder to distribute out to target machines, but if you want at-a-glance reporting on what your machines are doing, iStat is still recommended.