The Yahoo leaks just keep a-comin'. Business Insider's Jay Yarow reports that an "enraged reader" sent his online publication an internal Yahoo slide show on "Corporate Identity." (Also see: A glimpse of what's next to go at Yahoo and Note to Yahoo: Layoffs aren't a turnaround strategy)
You can view the entire slide show beginning here (only after you read the rest of this post; I'm not kidding). But don't expect a high-level analysis of how the troubled company is viewed by Internet users. Why waste time on trivial stuff like that? After all, everyone knows that only the elites in Silicon Valley and New York "don't get" Yahoo, as CEO Carol Bartz likes to insist. In the heartland, Yahoo remains as beloved as Bristol Palin on "Dancing With the Stars." (And just as nimble!) Instead, the slides whipped up by Yahoo's marketing pros concern choosing just the proper logos for various elements of the Yahoo empire -- office cubicles, aisles, screensavers, business cards, folders, notecards (front and back!), along with a primer on "companies that effectively use "bugs" (logos) to represent the brand." (Quick: When you see the "golden arches," what immediately comes to mind? That's right: Burger King!) It certainly can be argued that what we have here is a case of misplaced priorities and resources, especially in the wake of the pre-holiday layoffs of nearly 700 workers and the (leaked) plans to shut down a number of popular services. Business Insider's reader thinks so, to put it mildly. Yarow quotes him (or her): "Totally speechless -- they keep coming up with this junk every year, and you can't imagine how much time and effort goes into creating decks like these. This is truly sad, as this illustrates what Elisa [Steel, head of marketing] & co. are doing right after Y! having lost 700 people. It's simply appalling!" And yet, despite all this effort, these logos really aren't telling the Yahoo story. Our creative staff at ITworld huddled together and whipped up something that we feel is much more symbolic of the company these days: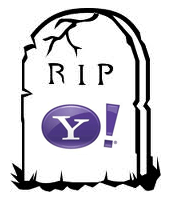 All kidding aside, the flow of embarrassing leaks from Yahoo are indicative of a company whose workers are become resentful of higher management and mistrustful of their judgment. Higher management might want to dwell on that a bit, instead of trying to root out and punish the leakers. Here's guessing they won't.
Chris Nerney writes about the business side of technology market strategies and trends, legal issues, leadership changes, mergers, venture capital, IPOs and technology stocks. Follow him on Twitter @ChrisNerney.