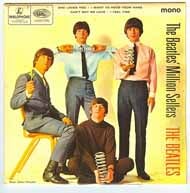 OK, maybe Steve Jobs hasn't brokered a Mideast peace agreement, but he's accomplished something that at times has seemed almost as impossible -- he finally snagged The Beatles for iTunes.
Apple announced Tuesday morning that the entire catalog of Beatles songs are now available for download in the iTunes store.
I've already made a purchase, downloading "Hey Bulldog" because my 6-year-old son loves the song and I couldn't justify spending $15 to $20 to buy the painfully mediocre Yellow Submarine album for one decent tune.
Interestingly, Apple shares were down 2.58, or 0.8 percent, to 304.45 in early morning trading. Not sure what that's all about, unless investors were disappointed that Apple instead didn't announce a cloud-based streaming service for iTunes, as many had expected.
Still, the availability of Beatles songs should lead to a boost in iTunes sales for this quarter. iTunes generated $1.2 billion in revenue for Apple in the third quarter.
Apple and representatives of the Beatles have negotiated sporadically since iTunes went live in 2001, but until now an agreement couldn't be reached. A deal reportedly was close a couple of years ago, but fell through over what surviving band member Paul McCartney called "a couple of sticking points."
Individual Beatles songs cost $1.29 to download, while single albums are $12.99 and double albums $19.99. For $149, iTunes users can download the Fab Four's entire catalog.
The agreement reportedly expires next year, which I don't really get.
In a press release Tuesday, Jobs said, "We love the Beatles and are honored and thrilled to welcome them to iTunes."
McCartney, meanwhile, said, "It's fantastic to see the songs we originally released on vinyl receive as much love in the digital world as they did the first time around."
And the band's other surviving member, drummer Ringo Starr -- who has become somewhat of a curmudgeon in recent years -- said, "I am particularly glad to no longer be asked when the Beatles are coming to iTunes."
Way to get into the spirit of things, Ringo.
Chris Nerney writes about the business side of technology market strategies and trends, legal issues, leadership changes, mergers, venture capital, IPOs and technology stocks. Follow him on Twitter @ChrisNerney.