NOTE: The contest has ended. See the winning caption here.
Help! This cartoon is in need of a caption. Your mission: submit your funniest quip in the comments field. Your reward: The winner will receive a $25 Amazon gift card.
How it works:
Log in (or register if you're new here) -- that's how we'll know who you are so we can notify you if you win
Post your caption in the comments section below the cartoon.
When the contest has ended, we'll pick a winner. Simple as that.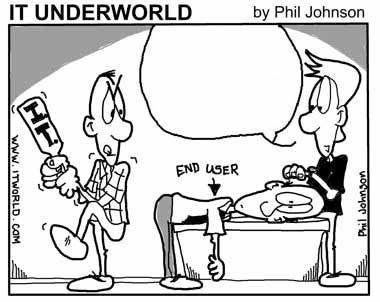 _______________
The fine print: Caption winners are chosen by a panel of ITworld employees. Material submitted for the caption contest may appear in other forms.

By submitting your caption(s) to ITworld, you agree that such caption(s) and the accompanying information will become the property of ITworld and you grant ITworld permission to publicly display and use the captions in any form or media for any and all purposes. Your submission also allows ITworld to edit, or adjust the caption for clarity and language.