In the old days, people passed time in their cars by singing "99 Bottles Of Beer On The Wall," or by looking for punchbugs or out-of-state license plates. In the old days, there weren't dozens of RSS feeds that were updating out there in the ether, waiting for you to check on them. Now you can ensure that your entire car is transformed into a Wi-Fi hotspot, supplying sweet, sweet Internet connectivity to anyone with a laptop or Wi-Fi-enabled handheld. If you're driving one of Chevy's SUVs, you can check out the Chevrolet Wi-Fi service, which will run you $30 to $60 a month; upcoming Ford models will feature USB ports that you can plug your 3G modems into, taking advantage of wireless service you're already paying for.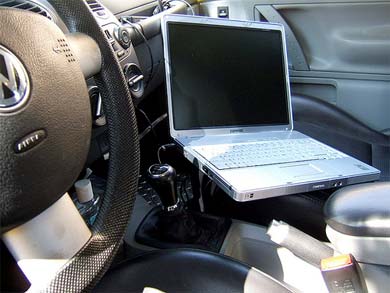 Picture courtesy of Flickr user ASurroca; click for full size
__________________
This tip is adapted from "Seven geeky ways to stay connected, kill time, and bring joy this holiday season" by Josh Fruhlinger.
Want to cash in on your IT savvy? Send your tip to tips@itworld.com. If we post it, we'll send you a $25 Amazon e-gift card.