If you're flying, you're probably going to be changing planes, and if you're changing planes, you're probably doing so at an enormous, labyrinthine airport chock full of a baffling array of places to eat, shop, and otherwise spend time and money. If you're using an iPhone (or if you've got an iPod Touch and are killing time at an airport with Wi-Fi), you might want to check out the GateGuru, an app that will give you the skinny on whatever baffling post-modern concourse you find yourself wandering through, bleary-eyed. Now you can find out if you're missing out on some quirky local joint when you stumble into a McDonald's, or if you're sitting at a gate silently cursing your aching neck when there's a massage stand just a few moving walkways up the corridor.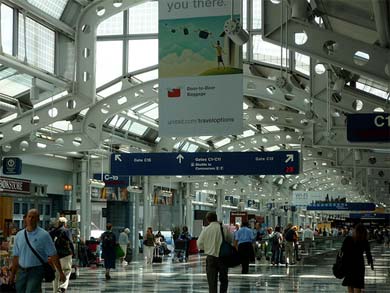 Picture courtesy of Flickr user NewbieRunner; click for full size
__________________
This tip is adapted from "Seven geeky ways to stay connected, kill time, and bring joy this holiday season" by Josh Fruhlinger.
Want to cash in on your IT savvy? Send your tip to tips@itworld.com. If we post it, we'll send you a $25 Amazon e-gift card.