With his twist on redundancy and backups, random_cole is the winner of this week's contest. You can see the winning caption below, along with some very funny honorable mentions and Phil Johnson's original cartoon.
The winning caption
I know I'm always preaching redundancy and full backups but this is really weirding me out.
The original cartoon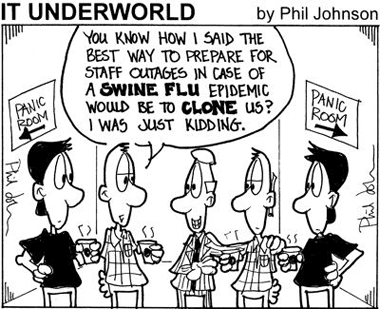 Honorable mentions
Perhaps you didn't understand what we meant by dual processors.

by Pam

I think that when management said they wanted back up services installed, they didn't mean it to be taken quite that literally.

by James C

Look Bob, tell management that somehow, I don't think cloning us qualifies as an IT disaster recovery plan

by admin09

I said I got burned by the coffee! Not burn a copy of me!

by Michael Lopez
See all the captions. Or add your own.
Follow IT Underworld on Twitter here | Follow Phil Johnson on Twitter here