For tapping into our fascination with Tweeting pets, Jesse Luna is the winner of this week's caption contest. Of course, there's no first dog romping around the White House lawn just yet, but when there is, we're not-so-secretly hoping he'll be a Twitter hound.
The winning caption
How exactly did you break into the First Dog's Twitter account?
by Jesse Luna
The orginal cartoon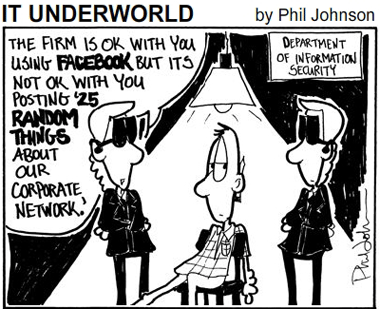 Honorable mentions
Our sources tell us you brought a MacBook Pro to work... do you have anything to say about that?

by inked

Karl Lagerfeld's goons cite Max for his heinous flannel shirt.

by Rachel Longo-Tosoian

"Why yes, our favorite movie is "The Matrix". Why do you ask?"

by mulderjoe

This is the third time we already told you, spraying insecticide on every computer will not eradicate a spyware infestation.

by rmerel

Mr. Anderson, we'd like to ask you a few questions about the reverse DSN client discovered in your cube.

by Anonymous

You have the right to remain silent. But thanks to a little thing called "The Patriot Act" we have the right to attach a car battery to your genitals.

by The Toast in the Machine
Catch all the comments here. Or add your own.