With his twist on cloud computing, supernatendo is the winner of this week's contest. You can see the winning caption below, along with some very funny honorable mentions and Phil Johnson's original cartoon.
The winning caption
Yeah, I know that the cloud server goes online today, and no, I don't need to borrow your spare umbrella.
by supernatendo
The orginal cartoon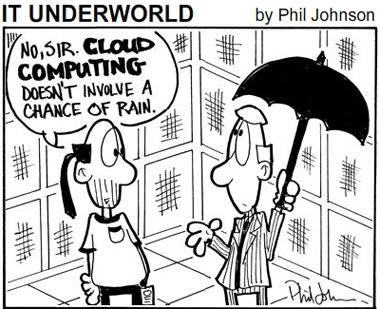 Honorable mentions
Wow. They don't make golden parachutes like they used to.

by random_cole

I was being metaphorical when I said the Confilcker worm was unleashing a s%*t storm on our servers.

by Jesse Luna

That's not what 'data storm' actually means, you know.

by Timmy Mac

No sir, I said expect growing pains while we enter the cloud.

by cab

"Um...that's not what I meant by deluge and torrent..."

by johnacole

No, you misunderstood. I said to expect R.A.I.N. today -- Redundant Array of Internet Nodes.

by Queixa

"No man... ya didn't let me finish... I was saying that it looks like R.A.I.N. is the way to go for our new storage system setup"

by Whirledly
See all the captions here. Or add your own.