It's the latest in augmented reality - where computer images and the real world mix - but for many Japanese otaku, or geeks, it's destined to become another way they can interact with virtual girls. [ Watch the video ]
This system is from Geisha Tokyo Entertainment and involves a Web cam recognizing a 2D bar code on a small cube. When it sees the cube a CG-character appears on screen. Leave her alone and she'll get bored, sit around and even clean your desktop if you're lucky...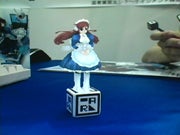 The latest in augmented reality lets you interact with a CG-character on your desktop
But bring another coded cube close-by and you can interact with the character. You can poke her and annoy her in various ways and even strip her down to a skimpy bikini. She'll complain at this abuse but still comply so if you're feeling guilty you can give her a present represented by another coded cube. She get happier when she sees the present and positively adore you when she finds out its a teddy bear.
If you think its too low-brow consider this: the company was formed and is largely staffed by graduates of the University of Tokyo, Japan's top university, and this first software is more about exploring the market and perfecting the technology before they go on to tackle bigger entertainment projects using augmented reality.
Alice should be arriving in October in Japan and the company has plans to put the software on-sale overseas including the US and China.