In the old days – a decade ago – the fastest storage systems were 15,000 RPM drives with puny capacity that served as the fast access storage layer for the "hot" data, the data that was being fetched and updated the most frequently.
These drives were a nuisance, though. They had pretty decent failure rates but ran extremely hot and consumed a lot of power to both run them and cool them, and their low capacity meant you needed a lot of them for large data storage.
Recent years has seen enterprise-level solid state drives (SSDs) mature and show reliability levels that enterprises want, and there has been an explosion in all-flash storage, from PCIe cards to arrays, supporting small, medium and large business needs.
One company enjoying the growth in all-flash storage is SolidFire, which just announced $82 million in new, Series D funding. That's $150 million that's been invested in the company. The company plans to use it for expanding its product line and its sales and marketing channel.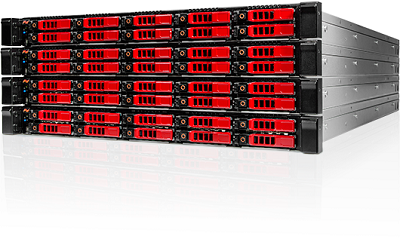 The company also announced two new flash storage nodes to its SF Series product lineup. The SF2405 is the low-end product, relatively speaking, that starts at 35TB of all-flash storage and 200,000 predictable IOPS for under $100,000. By way of comparison, a 15k RPM hard drive has about 200 IOPS. The SF2405 is designed for IT departments looking to accelerate the performance of individual applications or taking their first steps towards deploying a private cloud infrastructure and IT as a service, the company said.
The SF4805 offers twice the density of the SF2405 while providing 44 percent more storage capacity at a 30 percent lower cost than the previous generation product, the SF3010. A four-node SF4805 provides 69TB of effective capacity and 200,000 predictable IOPS. The company said this product is targeted at customers looking to eliminate traditional storage silos by consolidating a mix of application workloads within a single infrastructure.
Gartner praised SolidFire in its August 2014 Magic Quadrant report on solid-state storage arrays, calling it "an attractive platform for running next-generation cloud and big data workloads." But it also dinged the company for high initial costs, even for its low-end platforms, as a potential drawback for customers.
It's also got a lot of competition, like Pure Storage, Kaminario, EMC's XtremIO, Oracle/Pillar, IBM/Texas Memory Systems, Nimbus, Nimble, Skyera… you get the picture. Expect this segment of the market to heat up and begin the inevitable consolidation. As it is, IBM, EMC and Oracle all got their pure flash array products by acquisition.