Page 6 of 15
Working with contacts
The iPhone (left) and Palm Pre (right) both display contacts cleanly and allow for fast navigation. On the Pre, type a letter on the keyboard to jump to contacts whose first or last name contains that letter. On the Phone, tap the letter list on the window's right side to jump to entries whose last name begins with the letter. Both devices let you search your contacts, but on the iPhone, the virtual keyboard does cramp the search results.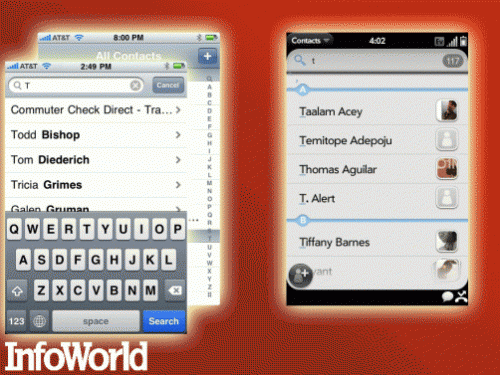 Get the full details: Read our in-depth comparison feature to find out what's behind our conclusions.
Dive deep into mobile 2.0: Download InfoWorld's 20-page PDF special report to get our editors' and contributors' insights on choosing and using next-gen mobile devices.
[ Also see: Battered, Bashed and Beaten: Broken iPhones A-Go-Go and BlackBerry vs. iPhone 3.0, side by side. ]
Source: InfoWorld
Follow ITworld on Twitter: @IT_world