Successful IT people come from all walks of life and all educational backgrounds. While some did in fact go to the best Ivy League colleges, still others went to state colleges or community colleges, and still others didn't go to college at all. We may imagine that today's IT leaders were all studious geeks who couldn't ever get a date, but for the most part, they were just like you and me.
How did some of the biggest tech celebrities get to where they are today? Let's take a look at ten of them, and delve a little deeper into their academic backgrounds.
Mark Cuban, Internet Entrepreneur, owner of the Dallas Mavericks
The controversial owner of the Mavericks has enough money to say whatever he wants, about pretty much anything. But besides being opinionated, he has always been an entrepreneur, from a very young age. At age twelve, described in the AskMen biography as a "12-year-old goofy kid with thick glasses," he sold plastic garbage bags door to door, bought and sold stamps, and sold newspapers during a strike in Pittsburgh.
Mark Cuban
Anxious to get through college and get started on his first million, he spent his senior year in high school taking college courses at University of Pittsburgh, then transferred to Indiana University in Bloomington, Indiana. And while IU has a fine business school, Mark's main criteria for attendance is that IU had cheaper tuition.
He worked himself through school in Bloomington, the quintessential college town, giving disco dance lessons, running chain letters, and incredibly, owning a pub called Motley's before he was even old enough to drink in his own establishment. In shades of Animal House, Motley's was shut down by the authorities later when a 16-year-old girl won Cuban's wet tee-shirt contest.
He briefly flirted with the idea of an MBA, and as a freshman, took advanced grad courses but was taken to task by the dean for doing so. MBA? Who needs it? Armed with his Bachelor's Degree from IU in 1981, Cuban went on to start a computer company called MicroSolutions. At that time, computer courses were few and far between, and Cuban himself had never taken any computer courses and had never owned a computer.
Michael Dell, founder of Dell
Stories from the dotcom boom of million-dollar dorm-room enterprises are the stuff of legend in college campuses everywhere, and Michael Dell is the one who made it happen. One of the wealthiest Americans today, Dell, who dropped out of University of Texas, Austin after his first year, started his company in his dorm room, manufacturing computers from scratch and selling them direct to consumers.
Michael Dell
Dell had something in common with Mark Cuban, also featured here, in that he made money buying and selling stamps to collectors as a youngster. He also sold newspaper subscriptions for the Houston Post, and was so successful he earned enough money to buy himself a sporty new BMW.
When he was 15, he bought an Apple II with his own money, and proceeded to dismantle it to see how it works. At University of Texas, he borrowed a thousand dollars from his parents to start a small computer business, and the rest is history. Although his parents wanted him to be a doctor, Michael had other ideas, and it seems to have worked out well for him. If he had finished college, there may never have been a Dell Computer.
Vivek Kundra, Federal CIO
There's nothing like a good political scandal, but not all of them are real-in fact, most of them are not. So yes, Elvis really is dead, Obama was indeed born in the United States, and Vivek Kundra did get the degrees he said he did. In a recent report, John Dvorak reported that Kundra never got past his Bachelor's in Psychology, but it has been since verified to the contrary, and Dvorak had just gotten the campuses confused and went off the deep end.
Vivek Kundra
Born in New Delhi, India, Vivek Kundra was thrust onto the world stage when he was named the first Federal CIO by President Obama. Vivek was immersed in an educational environment from the very beginning. Besides speaking the language of computers and technology, he also speaks Hindi and Swahili. At an early age his family moved to Tanzania when his educator father went to teach locals. He earned a degree in psychology at University of Maryland, College Park; a masters degree in Information Technology from University of Maryland University College, and also graduated from University of Virginia's Sorensen Institute for Political Leadership. Rumors that he is actually not Indian, but instead is from outer space, have not yet been confirmed.
Dilbert, cartoon character
Dilbert is the character that says what we're all thinking, and sheds light into what life in the cubicle is really like.

Dilbert
There's no record of where Dilbert went to college, or indeed if he ever did, but we would imagine that the white-collar cartoon character graduated from a Big Ten university, where he spent his time one-upping his professors, creating superfluous computer programs designed to impress sorority girls (with little success), and calculating with extreme precision how many ounces of beer could be consumed at a frat party before the attendees started to pass out. Dilbert's creator, Scott Adams , probably did the same, although he received his BA from Hartwick College in Oneonta, NY; and an MBA from UC Berkeley.
Fake Steve Jobs, blogger
"Fake Steve", aka Dan Lyons , has written for numerous technology trade magazines, and is the tech columnist at Newsweek, besides being the real person behind the popular " Secret Diary of Steve Jobs" blog.
Dan Lyons
Unlike the other techies on this list, Fake Steve didn't get a degree in computer science, or information technology; rather, he got a B.A. from Bradford College and an MFA from University of Michigan.
What do you do with a degree in Fine Arts? College towns throughout the US are full of MFAs, more commonly known as "waiters." Alternately, you can take the more practical route, and write about technology for Newsweek (and other prestigious IT publications, such as ITworld.com-the path taken by your humble correspondent, who possesses a degree in Creative Writing from University of California, Santa Cruz).
Real Steve Jobs, Founder of Apple Computer and wearer of black turtlenecks
Another college dropout whiz kid who practically invented the modern-day computer industry before he was old enough for his beard to grow in.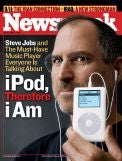 Steve Jobs
Is this getting to be an old story? He got in one semester at Reed College in Portland and occasionally audited a class or two.
In those days, computer tycoons were never educated in technology-computers were still as big as a house and the few computer courses that were available taught you how to program using cardboard punchcards. Jobs' real education probably came from his days wandering around India in the '70s-a time that may well have given him the heightened sense of aesthetics that made Apple what it is today.
Sergey Brin, Founder of Google
Yes, we all do silly things in college, and Sergey was no exception.
Sergey Brin
Sometimes, thanks to tools such as Google, those things come back to haunt us. Sergey invented Google, and it still came back to bite him in the behind-and an old college picture of him in drag is still floating around the Internet. (Google it!) As for your correspondent, all I can say is that I'm thankful that I'm older than Sergey and Google wasn't around to document my faux pas when I was in college!
Sergey went to University of Maryland, College Park where he earned an undergrad degree in 1993. By that time, the era of college dropout computer tycoons had ended, and he went on to Stanford for graduate work. Perhaps anxious to join the ranks of those who went before though, he did drop out of his Ph.D. program to start Google.
Larry Page, Founder of Google
There are no photos of Larry Page in a frilly dress floating around the Internet (at least as far as we know).
Larry Page
The silliest (documented) thing he ever did as a student was to create a working computer printer out of lego blocks while at University of Michigan.
He received his Bachelor's degree in Engineering from University of Michigan, and met his co-founder Sergey while doing his Ph.D. work at Stanford. Like Sergey, Larry never finished the Ph.D. program, instead going on to launch Google.
Mark Zuckerberg, Founder of Facebook
Mark Zuckerberg
Did I say that the era of college dropout computer tycoons had ended? Well, not quite. Still young, Zuckerberg dropped out of Harvard after launching Facebook in 2004. But during the short time he was there, Mark was a busy boy, not only launching the wildly popular Facebook, but also doing some work with a little-known competitor known as ConnectU.
The ConnectU people accused Mark of taking their ideas and using them to start Facebook-and received a hefty settlement earlier this year.
Sir Tim Berners-Lee, Inventor of the World Wide Web
Sir Tim built his first computer while in college using a rubber band, a drinking straw, three paper clips and a hubcap from a Buick.
Tim Berners-Lee
Well, not quite - but he really did build one with available makeshift odds and ends, including a soldering iron, an M6800 processor, and a used television, while a student at Queens College, Oxford, from which he graduated in 1976 with a Physics degree.
Also while there, he was reportedly caught hacking into the university computer with a friend, and was banned from using it thereafter. Fortunately for the rest of the world, he didn't lose interest, and went on to complete his groundbreaking research and to develop the World Wide Web.