Page 21 of 21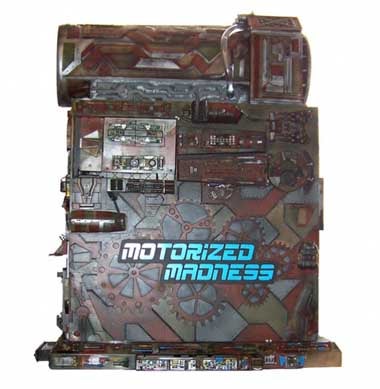 Dan Coe's Motorized Madness
For our rocking finale, we bring you the work of Dan Coe, aka Rendermandan, who posted this steampunkish, crazed PC in The Best Case Scenario Forum. Drool factors for this mod: an Intel Core 2 Quad Q9550 CPU, an Asus Rampage Extreme motherboard, 4GB of DDR3 RAM, an EVGA GTX 280 SSC Edition graphics board, two 150GB Western Digital Raptor hard drives, and a 750MB Western Digital hard drive.
Coe told me that Motorized Madness has over a dozen moving parts that can open and close remotely. Most of the movements are for heating and cooling vents, but "three trays extend out from the bottom with blue LEDs that shine upward to illuminate the sides of the case; a large gear rotates down to reveal a quarter-rounded window to the inside of the case; and a flip-over triangular-shaped panel rotates to expose a water-temperature monitoring system." On top of that, the mod has an "SD memory card slot, USB ports, and a reset button, and there's also a small 5-inch LCD monitor that rotates out and flips over."
If you really want to blow your mind, view Coe's YouTube video of Motorized Madness in action.
Photo: Dan Coe
Republished with permission from PC World. (View original version.)
This story, "World's Most Outrageous PC Cases" was originally published by PCWorld.