Page 4 of 21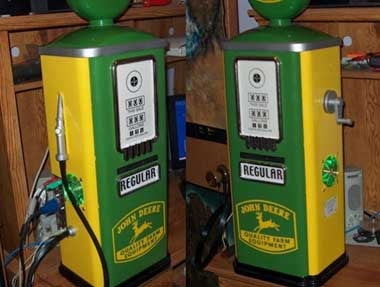 Frank Macon's John Deere Gas Pump
The John Deere Gas Pump is a pure Americana special from Missouri-based modder Frank Macon. His mod was a weekly winner during ExtremeTech's 2007 Case Mod Contest.
Macon's gas-pump PC sports a 1.83GHz AMD Athlon processor and 512MB of RAM. The pump has green LED fans to match the John Deere color scheme, and--to give the mod a dose of realism--Macon turned the gas pump's handle into the on/off switch. Pull the handle forward to give your computer some gas; pull it back, and the computer shuts down.
At ExtremeTech, you can find more John Deere PC photos, and a limitless supply of other awesome case mods.
Photo: Frank Macon, via ExtremeTech
Republished with permission from PC World. (View original version.)