Page 11 of 11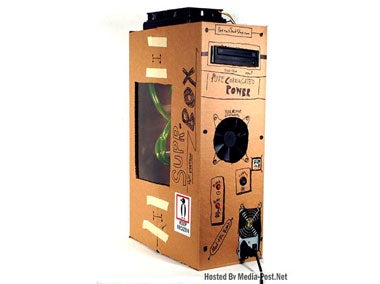 Pure Corrugated Power
Look at all those fancy case mods, with their snazzy lights and shiny exteriors. We don't need that high-class yuppie stuff here in America--we've got cardboard, a couple of Sharpie pens, and duct tape. (The American Way pretty much always involves duct tape.)
We'll show those snobs what we think of their pretty LEDs and spiffy chrome! Yeah--pure corrugated power! Hey, you'd better write that on the front, just so people know. Sweet. Even if you snobs think we're crazy, there's at least one thing you can't argue with: Nobody's going to steal OUR computer.
You may also enjoy:
Hot Prototypes: We Have Designs on Tomorrow's Coolest Gadgets Today
Tough Tech: Rugged Gear That Can Survive Almost Any Calamity
G.I. Joystick: New Video Games Train Today's Troops
Republished with permission from PC World (view original version)
This story, "10 Seriously Ridiculous Hacks" was originally published by PCWorld.