Apple's new product-rollout earlier this week saw the introduction of a range of new products, including updated iMacs, a unibody Macbook, a new Apple remote and an all singing, all dancing mouse. The latter, dubbed the Magic Mouse, has already received the teardown treatment from the guys over at iFixit, despite being out only a matter of days .
The new Magic Mouse replaces the often loathed Mighty Mouse, which beyond annoying users with it's frequently problematic roller ball, also recently stumbled across legal issues, giving Apple the perfect excuse to give us this new pointing device. Thankfully, according to various early reviews, Apple's Magic Mouse is a success, offering a much improved experience overall.
So, do you want to see what makes the mouse truly magic? iFixit's recent teardown reveals all, showing off the new multi-touch mouse in it barest form. iFixit discovered that the magic is made possible due to the mouse being covered in capacitive sensors, all the way from the Apple logo and up. Additionally they learnt that the new mouse makes use of the Broadcom BCM2042 Bluetooth chip.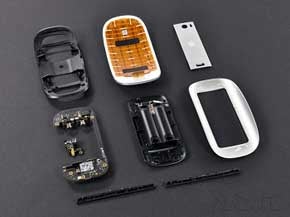 For more information regarding the Magic Mouse check out our first look.
Follow GeekTech and Chris Brandrick on Twitter.
This story, "Magic Mouse Gets The Tear Down Treatment" was originally published by PCWorld.