Page 4 of 5
DockStar, by Seagate
The more I try other NAS boxes and large centralized storage boxes, the more I appreciate how easy it is to install and use the Seagate DockStar. I reviewed this in early October, and it's still a favorite product. The tiny docking station connects to your home router via Ethernet cable, with the ability to attach a Seagate FreeAgent Go portable hard drive into the top. Voila! Instant NAS. Extra USB ports on the DockStar let you attach additional USB hard drives (not just Seagate drives), giving you even more storage potential.
Software from Pogoplug then lets you access the DockStar from any PC on your home network, or even from across the Internet. The Pogoplug site and service is also very cool -- in addition to providing access to the DockStar, the service lets you share files and folders with others. For example, if you have a bunch of photos that you want to show to Mom, you can just create a folder on the DockStar drive, enable sharing and then invite Mom via e-mail to let her see the pictures. Advanced features let you set up folders for a Twitter, Facebook or RSS feed, among others.
Two additional software downloads are available from Pogoplug that make the DockStar even more valuable. First, there's PC client software that lets you mount the drive on your PC a lot easier than the standard Windows method. This gives you easy access to drag-and-drop files to and from the drive (a lot easier than doing it through the Pogoplug Web application). Second, Pogoplug offers a very handy iPhone/iPod Touch application, providing mobile access to files stored on the DockStar. The iPhone app lets you stream music files to the mobile device, as well as view and download photos. Furthermore, you can upload photos from the iPhone to the DockStar, making this an easy way to get photos off the iPhone and into your central network.
While the hardware installation and activation was easy, it would have been nicer to have the software (the Pogoplug client software and the iPhone app) bundled along with the device (instead of downloads available on the Web site). It would also be easier to transfer files to the portable hard drive directly via USB from all your computers first, rather than doing transfers after you've connected it to the DockStar. I'd also like to see a multiple file upload available for the Pogoplug Web application.
Cool Yule rating: 5 stars
Price: About $100 (storage drives sold separately)
Reviewed by Keith Shaw
Clickfree C2 Portable Backup, by Storage Appliance Corp.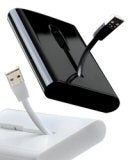 The Clickfree series of products are among the easiest and best ways to quickly backup and protect files stored on your PC. If you know how to plug in a USB cable, you know how to back up your system. The latest version, the C2, adds a convenient docking station and embedded USB cable (if you don't want to use the docking base). Features include 256-bit hardware-based encryption, scheduling backups (if you don't like the automatic backup), and the ability to share photos on Facebook or Myspace directly from the Clickfree Viewer application. Capacities on the hard drive are 250G or 500GB, which can be used to back up multiple systems.
This can also be used to transfer files from one system another, should you be getting a new PC for the holidays, say something that has Windows 7 on it.
Cool Yule rating: 5 stars
Price: $140 (250GB); $190 (500GB).
Reviewed by Keith Shaw