Holiday gift ideas: Digital photography, video and more
Cameras, camcorders and everything in between
It's amazing to see not only megapixels going up while prices go down, but the size of cameras, both for taking still images and videos, have also gotten so small. This doesn't cover the entire range of products out there in the world of digital photography, it covers the stuff that we were able to try and like here at the office:
Samsung DualView TL225 digital camera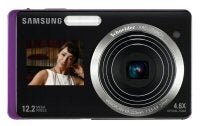 Just when you thought there was nothing new that vendors could add to simple point-and-click digital camera (except maybe more megapixels), Samsung comes out with a powerful 12.4 megapixel camera with an LCD screen not only on the back but also on the front.
What's the big deal, you ask? Think about it. All those times you tried to take a good shot of yourself standing in front of a tourist attraction. All those times you tried to get yourself and your peeps into the same frame to record that memorable moment for posterity. And you have to try to hold your arm out and aim the camera and get everybody to smile and click at exactly the right time. And the resulting photo never quite comes out right. Well, this camera solves the self-portrait problem because the 1.5-inch LCD screen on the front allows you to take perfect self-portraits.
The other features of the DualView TL225 aren't too shabby either. The back, 3-inch LCD screen is a touch screen, and there are many features which you can engage such as portrait mode, landscape mode, and smart mode. Smart mode allows you to take a picture without having to adjust for each setting you're in.
The camera also takes video, and offers features such as facial recognition and self-timer. This camera is fun to use, but at times the touch screen can be confusing since it's also motion-sensored. For example, if you tip the camera on its side, it will shuffle through pictures even though you may not have wanted to. Also, at times you may want a certain setting, such as the flash to be on, but you need to touch the screen before each shot on the flash button to ensure it'll be on because on some settings the default is to have no flash.
Once uploaded onto a computer though, the quality of the pictures are excellent. Overall, this is a light, easy-to-use camera with a 4.6X optical zoom that takes high-quality pictures of everything around you. And it doesn't leave you out of the action.
Cool Yule Rating: 4.5 Stars
Price: $349.99
Reviewed by Deb Weinberg
Shop Tech Products at Amazon