Holiday gift ideas: home and office gear
Page 12 of 14
Chili Pad by Chili Technology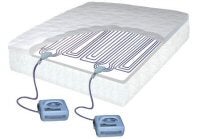 Are you the type of person that wakes up in the middle of the night and likes to flip your pillow over to the cold side? You'll really like this product. And menopausal women will LOVE it! The Chili Pad is a mattress pad for your bed that can allow you to make the bed cooler or warmer. Designed by a doctor who was going through menopause, the mattress pad is lined with water-filled coils allowing the temperature to range from 46° F to 118° F. It absolutely works!
You can also get a model that allows you two different zones, so if you share a bed with someone else, they can set it to one temperature and you can set it to another and both sleep comfortably. This is one of the neatest features and it really sets this apart from an electric blanket, both people don't have to be affected by one person's temperature issues. Plus, you can cool it down! My menopausal mother tried the cold feature and she said that she's gotten the best sleep in years, no more night sweats. She recommends to it everyone.
The Chili Pad mattress pad is very comfortable to sleep on regardless of if the device is on or off, it feels just like having a regular mattress pad on. However, the cooling/heating device could use a few modifications. First, on that part, there is a bright white light to let you know the machine is on, a bright blue light if you cooling, a bright red light if you're heating, and an LCD screen to show you the temperature. These lights will stay on the entire night, so I would advise, don't buy this product if you like sleeping in absolute darkness. I was afraid to put a towel over the lights because it would also be on the fan and I didn't want anything to catch on fire. Speaking of which, the heating/cooling requires a fan in order to work. The Chili Pad info claims that it's a quiet 20 decibels, but if you put that near your head, it seems very loud and the fan will blow on you. Even if it's on the floor, the sound is noticeable but it feels more like a white noise volume.
All in all, this is a great product, especially if you're looking to cool down the bed or you want different temperature zones. I would have loved to have tested this in the summer to see if I could use it instead of air conditioning on those steamy New England nights.
Cool Yule Rating: 4 stars
Price: Ranges from $399 - $649
Reviewed by Jennifer Finn
Shop Tech Products at Amazon