Holiday gift ideas: home and office gear
Page 2 of 14
Epson Artisan 810 all-in-one printer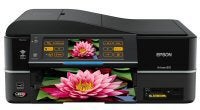 At first glance, spending $300 on a printer might seem extraneous when you can buy a complete computer for only a few more bucks (considering the price of netbooks these days). And if you're just looking for something that prints out your e-mails, then sure, there are a number of printers out there for less money.
But if you're looking for something that can also print photos, CDs, make copies and even fax (we're still trying to figure out who still uses fax machines), then the Artisan 810 has to be on your short list. The last time I loved a printer so much (other than last year's Artisan 800) was back when I saved up my money to buy a laser printer in the early '90s (I know, I'm a geek).The Claria high-definition inks (six individual color packs) truly make the best possible photos I've seen this year. Not only do 4x6 images look amazing, but larger 8x10 prints (something I'm always dreading based on the quality of the original digital image) also look fantastic. I printed photos off several other photo printers this year (including other Epson printers), and nothing looked as good as ones that came from the Artisan 810.
Beyond photo printing, the Artisan 810 can make photo copies and scan documents -- the automatic document feeder on top of the device makes this look like my office printer. Network connectivity -- both via Ethernet or Wi-Fi, make this a fantastic shared printer for the home or home office. The little things that made the Artisan 800 such a good printer are also available on the 810 -- you can scan a photo and then create a coloring book page -- it strips out the color and leaves you with grey borders that your kids can then color in. You can take a blank piece of paper and create a sheet of graph paper or lined sheet (good for last-minute requests from school-aged kids that need "just one more sheet"). A great addition this year is a USB charging port on the front of the device that lets you attach an iPod, turning your "printer" into an all-purpose device. There's even the ability to print from your iPhone (we ran out of time before trying that feature). The system is easy to use and operate, thanks mostly to the 7.8-inch touch panel and 3.5-inch LCD screen that pops up from the side of the printer.
Yes, the price may be a bit high and the additional ink could put a strain on your budget, but once you start using the printer you'll never want to go back to other printers.
Cool Yule Rating: 5 stars
Price: $300 (act quickly for a $100 rebate)
Reviewed by Keith Shaw
Shop Tech Products at Amazon