Holiday gift ideas: home and office gear
Page 4 of 14
Epson WorkForce 610 wireless All-in-one printer (print/copy/scan/fax/photo)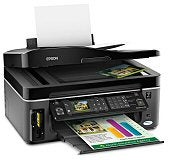 The WorkForce 610 is a multifunction, wireless, small office ink-jet printer whose real claim to fame is the speed of black and white printing and the quality of color printing on plain paper.
Build quality is about what you would expect from a low-cost printer, all of which feature a lot of plastic these days, but this machine felt somewhat solid, particularly the front tip-out control board. And the device performed as advertised through the range of its functions (although we never tested the fax capabilities).
Wireless setup was a breeze, which can't be said of many printers. Using the front-mounted 2.5 inch LCD screen, we had it look for networks and it found the SSID of my wireless network and latched on after I entered the Wired Equivalent Privacy code. With the printer on and seeing the network, I turned on a laptop and connected to the network and ran the Epson software. It found the printer and connected. Effortless.
Printing wirelessly was fast. Even photos transferred in a heartbeat. The printer excelled at black and white document printing and, while not as fast, handled color office documents with aplomb. Full page color documents were not soggy when they came out nor did they smudge. Impressive.
The stack feeder handle pages well, and copying quality was good. Same with scanning.
The printer didn't do as well when it came to photo printing. The pictures were clear, but they appeared a bit flat compared with the quality you can achieve with a dedicated photo printer.
Cool Yule Rating: 4 stars
Price: $199 (but company offering $40 rebate)
Reviewed by John Dix
Shop Tech Products at Amazon
The hit list
These days, even brawny tasks like video editing can take place solely in your browser. Check out these...
Apple has set June 5-9 as the dates for its 2017 annual developers conference and plans to move the...
Smaller businesses that think they could benefit from an unlimited plan from wireless carriers need to...
Resources
Research/Infographic
Sponsored
The Veepeak USB Rechargeable Motion Sensor Light offers a simple solution to lighting any area inside...
Sorry, Microsoft and Magic Leap. The Silicon Valley smartphone giants have one thing you haven't got.
The G502 features the most advanced optical sensor for maximum tracking accuracy. Customize RGB...