Holiday Gift Ideas: Portable Entertainment
MP3 players, headphones and other gift ideas to keep you rocking over the holidays.
Hard as it is to believe, there are other gift ideas in the portable entertainment space other than the iPod. Here are some reviews of some things we've tried over the past few months:
Sansa clip+ MP3 Player by SanDisk
Why on Earth would anyone want to make an MP3 player these days, considering the dominance from Apple and its range of iPod players? It seems like an uphill battle for a company like SanDisk to get attention for its music players, but the company has done a pretty good job with its Sansa players in recent years. This model, the clip+ player, offers 4GB of internal storage for music files, plus it includes a microSD slot that lets you add additional capacity for songs, as well as for playing the company's slotRadio cards (tiny microSD cards that come with 1,000 preloaded songs in different categories, such as Health & Fitness, '80s & '90s, or Oldies, to name a few). Transferring your music from the PC over to the player is as easy as plugging in a USB cable and dragging and dropping the music files (or folders) over to the device. The player also includes a digital FM tuner, a built-in microphone for voice recording, and its rechargeable battery lasts for up to 15 hours. It's the combination of the slotRadio card ability plus being able to add your own music that makes this device so appealing.
Did I mention how tiny the player is? You could fit about three of these in the palm of your hand, making this very convenient for using in workouts and other situations where you don't want a heavier player.
Cool Yule rating: 4 stars (out of 5)
Price: $50 (for 4GB; 8GB model costs $70).
Reviewed by Keith Shaw
eBook Touch Edition, by Sony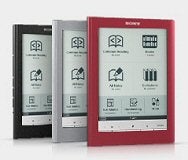 Like Amazon's Kindle e-book reader, the Sony version allows you to read electronic books in a portable device. Books from Sony's eBook Store can be purchased and then synchronized with the device. Book formats include BBeB (.lrf or .lrx), PDF, EPUB (.epub), text files (.txt), RTF (.rtf) and Microsoft Word (.doc or .docx). You can also view photos and listen to MP3 and AAC audio files on the device. You can also access content through an SD or Memory Stick memory card.
The device itself is thinner and lighter than a standard Kindle, and has enough memory (512MB) to access up to 350 books (more if you use the memory cards), and a 6-inch touch screen lets you turn pages by swiping your finger across the screen. The device includes a stylus that lets you do freehand highlighting and annotation.
The touch screen is very nice, letting you choose menu options and turn pages with your finger - i think it's easier to use this than the Kindle. There are five zoom settings that let you adjust type size to make it easier on older eyes. On the downside, there's no contrast or backlight features as far as I can tell, which made reading this in low-light situations (like in bed) difficult.
I'm still not completely sold on the e-book concept, I prefer the Touch Edition over the Kindle because of its smaller and lighter size, plus its ability to read multiple e-book formats (PDFs especially). Sony has a great contender in this device.
Cool Yule rating: 4 stars
Price: About $300Product Web site
Reviewed by Keith Shaw
Shop Tech Products at Amazon