Holiday Gift Ideas: Portable Entertainment
MP3 players, headphones and other gift ideas to keep you rocking over the holidays.
Page 2 of 4
Shure SRH 400 headphones by Shure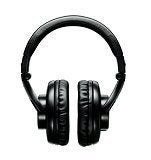 "Oh yeah, that's what music is supposed to sound like." That was my initial reaction to the Shure SRH 400 headphones. Sometimes you forget how tinny music sounds on those iPod ear buds. Of course, you're trading sound quality for mobility when you walk around with your iPod. And these headphones don't really solve that dilemma.
The Shure headphones provide amazing sound, but they're heavy (.6 pounds) and bulky -- there's no way you can use them on the move. However, if you're sitting at a desk, taking a train, plane or are otherwise stationary, these headphones provide superior listening quality and they do a nice job blocking out ambient noise. Everything about these headphones is top-of-the-line. The coiled cable is long -- nearly 10 feet; and plugs into your music source with a sturdy, gold-plated jack.
Cool Yule rating: 4 stars
Price: $77 to $125
Reviewed by Neal Weinberg
HF2 high-fidelity hands-free noise-isolating headset + earphones, by Etymotic
At first glance, the price on this headset/earphones combination ($180? what?) may turn you away - and if you're looking for just a regular set of earphones, there are less expensive versions. However, if you're looking to upgrade your earphones and also want to have a microphone that you can use with your iPhone (for talking on calls or even making voice memos with), the hf2 headset/earphones could be worth a look.
When listening to music, the earphones provide outstanding clarity, making for a very pleasant listening experience. The flanged earphones create a seal within your ears to block out incoming noise, making them very useful on an airplane or when you want to block the distractions from your kids. The microphone button doubles as a pause, forward or back button (depending on how many times you click).
When using the microphone on a phone call with my iPhone, the person I was calling could hear me clearly, without me needing to hold the microphone up to my mouth (it hangs off to the side).
I'm still not convinced that these are worth $180, but it does combine two features (noise-isolating earphones, plus a microphone for hands-free phone calls) in an excellent package.
Cool Yule rating: 4 stars
Price: $180
Reviewed by Keith Shaw
Shop Tech Products at Amazon