Holiday Gift Ideas: Portable Entertainment
MP3 players, headphones and other gift ideas to keep you rocking over the holidays.
Page 3 of 4
ATH-ANC7B Active Noise-Cancelling Headphones by Audio Technica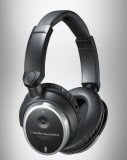 This was my first experience using anything from Audio Technica, and I was fairly impressed.
As standalone headphones, they work well. They're extremely comfortable, and I'm confident they will adjust to any size head. The ear cushions are very soft, and I've read they can be replaced if they wear down. I have a hard time imagining anyone using these to the point the cushions wear down, but it's great you can do that. They come with a high quality carrying case, which does a great job protecting your investment. The interior of the case has a little pocket that holds an extra 3.5mm cord -- either the short (3 feet) or the long (6 feet) one -- or the extra connector pin to connect to whatever that thing connects to.
Other than noise quality, the real attraction to these headphones is the "active noise cancellation". You turn it on by flicking a little switch on the outer left side of your headphone, and it's powered by a single AAA battery. Audio Technica claims battery life of 30+ hours. I've gotten at least 10 hours so far.
Even without noise cancellation, the headphones do an excellent job isolating extraneous noise -- probably due to the very tight (but comfortable) fit and high quality padding. When you turn on the active noise cancellation (ANC), low pitch sounds disappear. It worked well enough sitting at my desk, but the first real test came on a recent trip to Washington, D.C. After takeoff, and the customary "you can now turn on approved electronic devices" message, I grabbed my PSP and threw these things on. I tried it without ANC at first, and I could hear the video game well enough. Then I turned on ANC, and I could suddenly decrease volume and still hear the game. I left the headphones on for about 20 minutes of gameplay, then decided to test them again by turning ANC off. I immediately gained a new appreciation for it when I was suddenly flooded by the noise of the aircraft's engines. I didn't realize just how much of a difference the headphones made until I took them off -- it's significant.
I really don't have any complaints about these headphones. The sound quality is quite good, battery life is impressive, ANC works well, and they come with an excellent carrying case. It was a short flight from Boston to D.C., but I feel comfortable these headphones will improve my traveling experience on longer flights too. Until then, these headphones have my endorsement as a slightly more affordable alternative to the excellent offerings from Bose. If you're a regular traveler, I recommend giving them a try.
Cool Yule rating: 4 stars
Price: $166.70
Reviewed by Daniel Hunt
iBlink WLB2 Earbuds
The iBlink Earbuds are trying to make headphones just a little more interesting. The headphones blink to the rhythm of your music, and the LED brightness depends on the volume of your music. Three locations on the earbuds blink: one spot on each earbud, and one spot on the controls near where the earbuds branch off from the main wire. The section on the wire is the only blinking that the wearer can see. The headphones also come with three sizes of gel inserts for the earbuds. When you're wearing the correct gel size, the earbuds fit securely and comfortably, I was a little surprised at how deep in my ear canal the bud sat. The sound quality was very crisp if you're wearing the correct gel size; if however, you have the wrong size on, it will sound as though you're listening to music through a cotton ball.
One reviewer on Amazon.com mentioned he liked the blinking feature for when he was walking outside at night. It really would help people, drivers perhaps, see you. However, I wouldn't turn the blinking on while at the gym. Luckily though, you can turn the blinking on or off. If you want to use the blinking though, you'll need to remember to charge it via a USB port.The blinking is a fun feature for people who love LED lights, but I personally wouldn't replace my standard iPod earbuds for these.
Cool Yule rating: 2 stars
Price: $29.99
Reviewed by Jennifer Finnshow
Shop Tech Products at Amazon