The differences among pocketable, YouTube-friendly camcorders are bigger than you might think. Here's what some top-rated models do best, what some don't do well, and what some can't do at all.
Kodak Zi8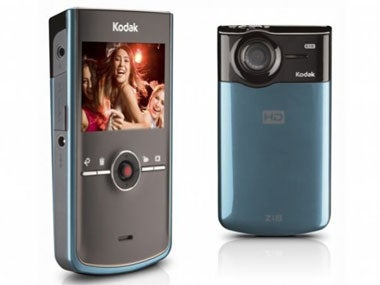 Price: $180
File type and resolution: .mov; 1080p (at 30 fps), 720p (at 60 fps or 30 fps), or 848 by 480
Strengths: 1080p video, resolution and frame-rate controls, microphone-in jack (you can use earbuds as an external mic), big LCD, macro/landscape toggle, records to SD/SDHC cards
Weaknesses: Laggy interface, bad digital zoom, bulky size, iffy digital image stabilization, mediocre 5-megapixel still images
Buying advice: If you value video quality and frame-rate controls over all else--and if you want the option of using an external microphone--the Zi8 is perfect for your needs. It isn't as polished, durable, or low-light-savvy as the Flip Video MinoHD, but it produces higher-resolution video and offers many more features for $50 less. If you have earbuds, you can also use them as makeshift lavalier mics by plugging them into the Zi8's microphone-in port. Plus, with a simple mod using a mail-ordered wide-angle lens, as demonstrated by YouTube users renadar1001 and onesiccaprilia, you can enhance the Zi8's imaging capabilities even more.
Full review | HD Pocket Camcorders
Republished with permission from PC World (view original version)