Page 6 of 6
Social network your way to fitness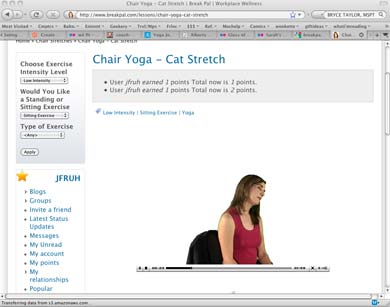 Finally, since everything tech must have a social networking component these days, we offer these sites that can connect you with your friends (or total strangers) in the interest of fitness:
Holosfitness.com is a free online tool with hundreds of exercises posted with step-by-step instructions, many of which are geared towards office workers and activities that can be performed in the office or while traveling on the road. The social networking aspect of the site helps to support and motivate users.

Limeade is a service that promotes its social networking aspects as an avenue for smack talk. It includes a challenge feature, where users can challenge peers or whole departments to wellness-related goals ("The IT department challenges the accounting department to take lunch-break walks four days next week!"). On the geekier side, Limeade has APIs to help any mobile device integrate -- and help engineers and employees earn gifts, status, and even money toward health insurance premiums for achieving pre-set goals.

Break Pal is a combination desktop application/streaming video/social media site. The desktop application (currently based on Yahoo! Widgets, but in the process of being ported to Adobe Air) pops up at predetermined intervals, then directs you to a short office-safe exercise, based on anything from qi gong, to yoga, to martial arts, to dance moves.

At this point, you've been reading the article for quite a bit. Don't you think it's time you got out of your chair?