True BlackBerry lovers, or "CrackBerry" addicts, if you will, can never have too many BlackBerry apps.
This steady demand for apps is no secret, and nary a week goes by that I don't some see some BlackBerry blog or mobile site offer up its "Best BlackBerry Apps" list. But most of these posts profile "commercial" applications that you have to buy.
Sure, plenty of BlackBerry software is well worth the scratch developers charge for it. And you can call me "cheap," but it's sticks and stones that break this blogger's bones; I'd much rather get a valuable app for free than dish out cash.
On that note, I've compiled a list of ten free BlackBerry applications that I use regularly. Every one is worthwhile—and you won't have to part with a single dime.
I know some BlackBerry users prefer to avoid BlackBerry App World, RIM's software store, and some of you folks reside in locations where App World's not available. So I've provided non-App-World download links where possible.
Happy app-ing!
Foursquare for BlackBerry
In Foursquare, the latest social-networking-craze, users "check-in" to the various places they frequent, and attempt to gain more check-ins than friends and other Foursquare users to secure badges and "Mayor" titles for favorite establishments. Since the service is employed mostly on the go, there's no better way to get in on the fun than with the new BlackBerry Foursquare app. It's still in beta, and it's far from perfect. But the app works well-enough for me to recommend it here. (Warning: Stealing away my Mayor titles is grounds for fisticuffs in my book!)
Free from Foursquare.com.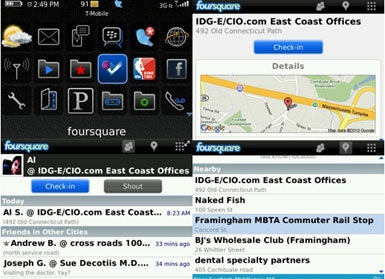 Get Your BlackBerry Black Belt with CIO.com's BlackBerry Bible: Everything You Need to Know About Your RIM Smartphone
See also:
50 smartphone blogs: A whirlwind tour of iPhone, Android and BlackBerry sites
Cheap and Easy Ways to Use Your Gadgets on the Road
Republished with permission from CIO (view original version)